Charlie Martin comes to Diversity Rules Magazine compliments of Champions Diversity and Inclusion Agency.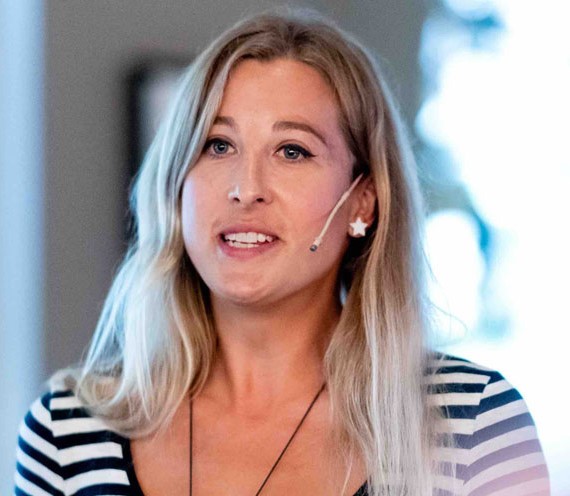 As the first professional transgender motorsports racer, Charlie Martin is breaking records, personal bests, and stereotypes. The LGBT+ and diversity speaker has first-hand experience of the importance of inclusion, having experienced stigma as a transgender woman. Charlie is now using her influential platform to promote acceptance and understanding, from sport to business. Motorsports in itself is a male-dominated industry, so Charlie is having to face discrimination as both a woman and a member of the LGBT+ community. Despite this, she remains steadfast in her message; "I want to share my story with everyone."
As a racer, you can usually find Charlie competing in the Ginetta GT5 Challenge. Starting in 2018, she competed with Richardson Racing, followed by Ligier. This is where Charlie first tried her hand at endurance racing, which would later lead to a place in the German VLN Championship. The championship includes a 24-hour race, the pinnacle of driving endurance. Upon joining the Racing Experience team, Charlie took part in the 2019 Michelin Le Mans Cup – she even came fourth in the Circuit Paul Ricard.
Charlie's after-dinner speeches discuss her experience behind the wheel. A thrilling spectacle for audiences to enjoy, she also shares the invaluable endurance and persistence techniques that she employs on the track. In the early stages of her career, Charlie took part in the 2006 Hillclimb Leaders Championship. Behind the wheel of a Peugeot 205, she experienced her first taste of competitive motorsports. Fast forward 10 years and Charlie soared past the competition to take second place in Class B of the 2017 Race of Remembrance.
Inspired by transgender model Caroline Crossey, Charlie is a vocal advocate for LGBT+ representation. She has led a number of influential campaigns in the sport, including encouraging drivers to proudly wear the rainbow flag at the 2018 Ginetta GT5 Challenge, for Pride Month. Charlie wants transgender representation to become normalized, she wants people to look at her and see a good racer – not just a transgender woman. As the first racing driver to join Athletes Ally's, a non-profit LGBT+ organization, Charlie is highly regarded as a trailblazer of representation, both in motorsports and across the world.
Charlie Martin is a beacon of hope in motorsports, a notoriously male-dominated sport. The transgender champion was listed in the LGBT Speakers Agency's 10+ LGBT Speakers for Pride Month, a testament to Charlie's impact on the sports industry. In this exclusive interview for Diversity Rules Magazine, she showed an immense passion for the LGBTQ+ community and revealed the importance of inclusion:
What were some of your main fears leading up to your transition and how did you overcome them?
"My main fears were primarily the effect [my transition] would have on all the relationships in my life. My friends, my family, my work, my career, all those areas where I had no idea how they'd be affected.
"I overcame that with a combination of thinking things through and trying to move at a pace that allowed other people to be part of [my transition]. Because when you transition, everyone in your life has to transition with you.
"Although these were things I'd known about myself for 25 years or more, to a lot of people, it was an entirely new thing. And I think people, therefore, had their own fears. It was a case of trying
to look at things objectively, see things from their perspective and try to carry people along and educate them through the process."
How important has support been (such as support groups, friends) throughout your journey?
"Coming into transition, I didn't actually have any trans friends. I didn't have any contact with the community, and it was actually some time before I reached out to people. So, all of my support was through cisgender, predominantly heterosexual friends – I feel really lucky that I had [their] support.
"That carried me a long way because it's such a difficult process to go through. There are so many emotions that you feel: excitement, fear, anxiety. Until you're in that experience, you don't know how you're going to feel one day to the next.
"There's no field manual when you transition, it's very much, 'okay, off you go, learn as you go!' and you have to learn very quickly. I think going through that you become very vulnerable, you're very visible in a lot of public spaces. So knowing you have the support of your friends, your family, and everyone around you to fall back on, it really makes all the difference."
What do diversity and inclusion mean to you and why are they important?
"Diversity and inclusion mean having better representation for everyone in the spaces that they work in, they live in. Whether you're talking about ethnic minorities or people from the LGBTQ community, I think it's so important to see people represent you, not only in the world around you but especially when we talk about careers and organizations.
"I'm a big believer in the phrase 'you can't be what you can't see', and if you can't see a pathway necessarily to get where you want to be, it's easy to talk yourself out of things. I think it's being included. People reaching out to you, engaging with you not because you're there by default or because someone's trying to fulfill a quota.
"In terms of my career, it's personal to me because motorsport is such a male-dominated industry. It's not really changed much in that respect; it's still very much ran by men and done by men. I know how that impacted me, trying to see my future and imagine what that would look like. So certainly for me, it's important to bring diversity and inclusion into a space where there's a distinct lack of it."
As the first transgender racing driver, what motivates you, and how important is LGBTQ+ representation in your sport?
"I think LGBTQ+ representation is really important in motorsports and in the automotive world as a whole. If we look through history, there was Roberta Cowell who transitioned in 1948, who competed at quite a high level as a racing driver and fighter pilot. I mean, an incredible pioneer for her time!
"But since then, there [have been] a couple of people pop up from the LGBTQ+ community, but very few and far between. Therefore, I never saw anyone like me in a career that I was interested in. I wanted to be a fighter pilot, actually, when I was very young, but whether it's fighter pilot, racing driver – when you can't see anyone that looks like you, you think, 'how am I ever going to make it?'.
"Let's be honest, motorsport is an incredibly tough sport to make it as a driver. It's not like football or tennis where you just pick up a ball or a racket, and you start playing! You need hundreds of thousands of pounds. In fact, to make it to Formula 1, it's millions and millions.
"So, you need to feel like you have an actual, realistic chance of succeeding in your career. And if you can't see the people that are doing it already, it's so easy to lose heart. That's why for me, it feels so critical to be out there, to be visible."