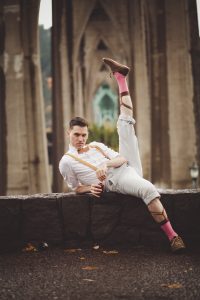 Jamie Benson proclaimed "one of the strongest, hottest contemporary dancers of his generation" by critic Lewis Segal, and "crazy" by The Dance Enthusiast's Christine Jowers, is a choreographer and Cornish College of the Arts drop out. Called "Chaplin-like" by Backstage West, Benson danced in LATC's Shag with a Twist, the film Rent, McDonald's Mario Art commercial, TV show Dance360 and Rudy Perez Ensemble. Described as "insightful and irreverent" by LA Weekly's Ann Haskins, Benson's lowbrow meets highbrow choreographic work has been presented at the Luckman Complex, Highways Performance Space, Bootleg Theater, NY Transit Museum, Triskelion Arts and Proctor's Theater. Jamie Benson has been featured in the New York and LA Times, Dance Magazine, Good Magazine, Phaidon Press' Wild Art, and awarded funding from the Brooklyn Arts Council. His films are official selections of the Cinedans Film Festival, 2015 Athens Video Dance Project, Video Danza Havana, and Bucharest International Dance Film Festival. Learn more at jamiebenson.com.
Comically inclined choreographer Jamie Benson joins forces with Peoples Improv Theater (PIT) to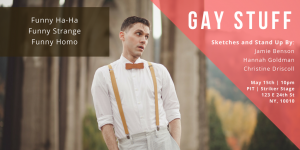 present Gay Stuff on May 15, 2018, from 10-11pm ($8 tickets). Benson, and his outsider comedic team, that includes Christine Driscoll and Hannah Goldman, are debuting 3 sketches, 2 stand-up sets, and some sassy/stupid walks for the PIT's Striker main stage. Gay Stuff will dissect internalized homophobia, oppressive bro prerogative, and marginalizing gay cliches, but like, with dick jokes.
To find out more about Jamie Benson:
Facebook:  https://www.facebook.com/jamiejbenson/
Twitter:  @jamiebenson
Linkedin:  https://www.linkedin.com/in/jamiejbenson/
To find out more about People's Improv Theater:
Diversity Rules Magazine welcomes Jamie Benson!  Enjoy the interview.
JRK: Just to kick things off, can you tell readers a bit about yourself – where you are from, your background, and all that good stuff?
JB: I'm a contrarian and communication whore with too many interests, who hails from a pissant Oregon town called Albany (typed with affection). I fell head-long into dance during middle school social gatherings, which evolved into a strange pseudo-celebrity experience as a high school dance and drill team performer (complete with signing autographs and negotiating screaming girls at regional competitions).
Identity is a sticky thing, and the title "dancer" was glued to my forehead. I went to the closest school for dance I knew of, Cornish College of the Arts in Seattle. The (self-proclaimed) "Juilliard of the West", Cornish is a heavily modern dance based school that prided itself on teaching everything one needs to be an independent modern choreographer. Sadly, they also mentioned nothing about the impossible entrepreneurial reality of things. It wasn't a great fit, so I dropped out after 2 years and floated in several seedy ways for the handful of years thereafter.
JRK: You have quite a unique creative style that has resulted in what you call "a bastardized Broadway experience." Can you tell us a bit about that and how it all evolved to where you are today?
JB: After tripping into some semi-legitimate dancing opportunities in LA, I got really bored with the pretense of both fine art and commercial dance forms, and decided to burn it all to the ground with a performance series I produced called Bathroom Follies. The show presented traditional techniques (i.e. ballet, modern, jazz, contemporary dance styles) with stories that revolved around the public restroom experience. This is where I discovered a possible blending of my passions for sketch comedy and modern art. Yes, there was a comedic dance between a ballerina and her unflushed turd, as well as a drunk vomiting in a bathroom attendant's tip jar, but there were also pieces exhibiting anxiety about urine test results and depicting the bathroom as a good place to cry. My work became the abandoned love child of modern dance choreographer
Pina Bausch and funny woman Tina Fey. I use to call myself "Pina Fey". I still consider this type of recipe when being creative today. Truth, accessibility, expressivity, and absurdity all rolled into one.
JRK: Your background is in choreography but you are venturing into the comedic realm with your first show at the People's Improv Theater (PIT). Can you tell us about the show and what's going to happen?
JB: In Gay Stuff, I'm debuting 2 sketches, Gay-splainer, the new app for people who desperately need a bitchy best friend, and Avenue WTF, a couples counseling session that takes the idea of non-binary gender to a whole new level.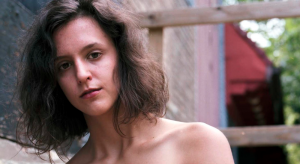 Christine Driscoll, an environmental policy escapee, will present Mother's Maiden Name, a performative rant about security password micro-aggressions.
Experimental Bitch, Hannah Goldman, will present a
stand-up set and the sketch Safe Space, depicting bro culture as both endangered, and homoerotic. It'll be performed by an all-female cast.
I recruited these smart and funny women in a sketch writing class we completed recently at Magnet Theater here in the city. All of the sketches presented were written and developed in that class.
JRK: Inspiration is the fire that propels people forward to fulfill their dreams and aspirations, and it is the fuel for empowering our personal greatness. What inspires you?
JB: Self-starting writers, in most forms but especially those that write funny and impactful narrative fiction (i.e. stand-up, television, and film type storytelling). It takes smarts, the ability to edit oneself, an understanding of the human condition, and a shameless resilience that I respect deeply. I'm still trying to find a fertile place to shove all my writing chops, in the way someone like Tina Fey, Kristen Wiig, or John Waters does.
JRK: You also do what you call "Free Range Public Relations Consulting." What does that entail?
JB: Through sheer strength of will and utter nerdman-ship, my fringe performance self-has experienced glimmers of mainstream success, like serious press coverage, film festival acceptance, and grant funding. Now, I make most of my money consulting other individuals and organizations on how to do it for themselves. Many think the creativity you put into your artistic work is separate from the, often neglected, business side and they are so damn wrong.
Without promoting these services at all, I have a packed public speaking schedule and turn down consultations due to time restraints. As a speaker, I offer down and dirty tutorials in tandem with philosophical rants on everything from social media advertising, press solicitation, how the brain functions, and creative copywriting. As a consultant, I offer deeply personalized strategies and resources, usually via a conference call.
Essentially, it's "free-range" because I happily mind my own business until someone feels like having me as a meal.
JRK: What are some of your more colorful moments in your career that make you laugh out loud when you look back at them?
JB: Dancing dressed as an unflushed piece of shit, TP-ing an audience, interpretive dancing to orgasm noises, using grant funds to cover a vintage subway car with fake bloody bandages, spilled coffee, and vomit.
JRK: What's next for Jamie Benson after the PIT show?
JB: The Park Avenue Armory invited my Shakedown Dance Collective to participate in the new Nick Cave installation, The Let Go, on June 10th. Cave is turning the Armory's 37,000 square foot space into a dance hall, complete with a 100ft long, 40ft tall rainbow-colored mylar curtain on a winding track, games of Twister; music by NYC's best DJ's; a Soul Train platform, and more. I and my 50 participants of all shapes ages and creeds will use the installation as a dance playground.
Next, I'll be making video versions of the two sketches I'm debuting live in Gay Stuff.
The filming frenzy continues after that. Dance comedy professionals Dancify That have also invited me to make a video together in early fall. We'll be assigned a bizarre internet clip and be given a time limit to translate it into a funny dance.
JRK: What final words of wisdom would you like to leave with readers?
JB: Um…. don't do it unless it scares you a little.
__________________________________________________
If you enjoy reading Diversity Rules Magazine, please consider subscribing, advertising or investing in its future.