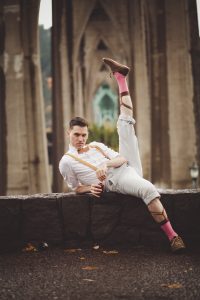 Jamie Benson, proclaimed "one of the strongest, hottest contemporary dancers of his generation" by critic Lewis Segal, and "crazy" by The Dance Enthusiast's Christine Jowers, is a choreographer and Cornish College of the Arts drop out. Called "Chaplin-like" by Backstage West, Benson danced in LATC's Shag with a Twist, the film Rent, McDonald's Mario Art commercial, TV show Dance360 and Rudy Perez Ensemble. Described as "insightful and irreverent" by LA Weekly's Ann Haskins, Benson's lowbrow meets highbrow choreographic work has been presented at the Luckman Complex, Highways Performance Space, Bootleg Theater, NY Transit Museum, Triskelion Arts and Proctor's Theater. Jamie Benson has been featured in the New York and LA Times, Dance Magazine, Good Magazine, Phaidon Press' Wild Art, and awarded funding from the Brooklyn Arts Council. His films are official selections of the Cinedans Film Festival, 2015 Athens Video Dance Project, Video Danza Havana, and Bucharest International Dance Film Festival. Learn more at jamiebenson.com.
Comically inclined choreographer Jamie Benson joins forces with Peoples Improv Theater (PIT) to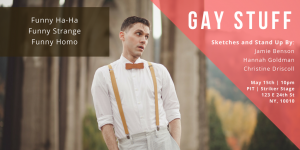 present Gay Stuff on May 15, 2018, from 10-11pm ($8 tickets). Benson, and his outsider comedic team, that includes Christine Driscoll and Hannah Goldman, are debuting 3 sketches, 2 stand-up sets, and some sassy/stupid walks for the PIT's Striker main stage. Gay Stuff will dissect internalized homophobia, oppressive bro prerogative, and marginalizing gay cliches, but like, with dick jokes.
__________________________________________________
If you enjoy reading Diversity Rules Magazine, please consider subscribing, advertising or investing in its future.