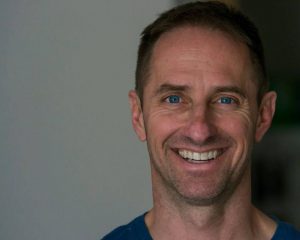 Ron Blake is much more than a sexual assault and PTSD. He graduated with an MPA in Public Affairs from Indiana University, was elected as a city councilman in suburban Chicago at a young age, was a high school physics teacher, and worked with hundreds of students as a high school cross country and track coach for 15 seasons.
Blake was born in Gary, IN and has lived in Phoenix for the last 13 years. His parents, Ron and Rita are retired educators. He has a sister Kris and three brothers: Scott, Matt, and Mark. His parents and brothers live in Indiana (Chicago suburbs) and his sister lives in San Diego.
Blake has lived in Los Angeles, San Diego, and England too.
I am a gay man. I experienced a trauma that most gay men do not talk about.
Three men entered my downtown Phoenix home one night when I was asleep and sick. I was held down that night and sexually assaulted. I almost lost my life before police arrived. I knew all of these men.
The police dismissed this sexual assault as a playful misunderstanding between four gay men who had too much to drink. However, I had nothing to drink. And I made the call for help. Justice was not blind on that dark winter night. That dismissiveness exacerbated an already horrific event.
I began to isolate badly from society after that night. I was diagnosed with PTSD and life became very uncertain and bleak for me as the months passed by.
It's as though the world slapped a gag order on me. Sexual assault is especially difficult for us gay men to discuss. There is a double stigma involved.
Many men are not out of the closet because there is still a stigma about being gay. I struggled until I was 35 years old to tell anyone I was gay.
And numerous guys are just not comfortable about discussing a sexual assault. There is indeed a stigma about male sexual assault. We are guys. We are expected to be "tough".
Society assumes a lot about us "gays" and sexual assault.
The three men involved in my sexual assault are gay men. Perpetrators in these crimes are usually not gay though. The truth is this: the majority of men who sexually assault other men identify as straight men.
Additionally, being sexually assaulted has nothing at all to do with sexual orientation. There are straight men. There are gay men. There are bisexual men. Each of those men is equally likely to experience a sexual assault.
I have been on a most different cross-country journey to open up the dialogue about male sexual assault and to overcome my trauma.
It all began on a suicidal night I experienced in November 2015. A moment of laughter changed everything for me that evening when The Late Show with Stephen Colbert came on my TV.
It was not that I laughed that saved my life then; it is that I recognized I laughed. I paused the show for three minutes and that recognition gave me the one thing that would keep me going: HOPE.
In that ah-ha moment, I decided I would embrace the power of that laughter and get on The Late Show as a guest. I wasn't going to hide from my sexual assault anymore. And I would share my ongoing story of trauma to triumph with everyone.
My mission is to go out each day and meet strangers and tell them my story. And get them to sign support on giant foam poster boards for all my efforts to get on that show, overcome PTSD, and help other gay men (and others) overcome their sexual assaults.
So for 904 days in a row (and counting) and over 7,000 hours of work, I've been on this quixotic cross-country journey to get on this show with the support now of 25,044 strangers I've personally met who have signed messages of support and hope for my efforts on 3,100 square feet of poster boards.
I've met dozens of gay men on this journey who have shared their personal stories of sexual assault with me. We are sort of like the Island of Misfit Toys from that animated Christmas show. We are forgotten. We are isolated. We are misunderstood.
Gay men are not being included in our national discussions about sexual assault. The tough guy culture and homophobia in our society continue to make this a taboo topic. It's going to take a village to change this. A big bold village that is willing to open up more dialogue about sexual assault impacting gay men.
With continued support, I will eventually get on The Late Show and I will get us off that lonely island. We are all broken and we are all misfits. But we all deserve love and healing … through that power of laughter. I will see you soon Stephen Colbert.
__________________________________________________
If you enjoy reading Diversity Rules Magazine, please consider subscribing, advertising or investing in its future.