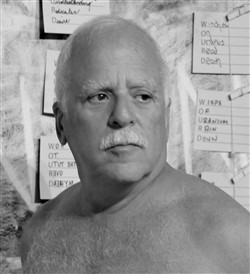 Stu is a retired professor who taught human diversity courses for thirty years. His first college job, in 1964, was posing naked for art and photo classes— he still poses part-time! 'Lights On—Clothes Off: Confessions of an Unabashed Exhibitionist' is his rather revealing novel.
Stu welcomes your comments related to his Sans Clothing column.
His book: lightsonclothesoff.com
His email: stuauthor@gmail.com
Rainbow dongs. Mermen. Male nudes. These are words that come to mind when thinking of Jaron Stokes, a very skillful artist, and a friend. For those of you who have read my novel, I'm sure you've admired and enjoyed the book's cover—that artwork was painted by Jaron.
I chatted with Jaron recently and asked lots of questions. Here's what I found out about this highly talented guy. He's a graduate of the California College of the Arts where he majored in illustration with an emphasis on both oil and watercolor painting. Before his college training, Jaron was on an advanced placement track in a performing arts high school program. (Jaron wasn't into bragging but I know that entry into this particular high school is only for those who are accepted due to their demonstrated high-level art skills.)
You're probably wondering why I started my column with 'rainbow dongs,' 'mermen,' and 'male nudes.' Simply put those are the current themes of Jaron's work. Although he used to be shy about being gay and his art's subject matter, that's in the past. Jaron finds beauty in the male body. The majority of his work is figurative, with mostly male nudes, and his latest creations have emphasized painting the male genitals with rainbow colors—his 'rainbow dongs.' I'm proud to boast that Jaron took quite a few close-up photos last time I posed for him and the next thing I knew my penis was included in his collection. (If you want to see this rather realistic art see my note at the end of the column.)
Jaron is also into painting mermen. He belongs to a group that supports this subject matter and I must say the mermen he paints are creative and beautiful. I'm not an art critic but it's clear to me that Jaron's mermen are a gift and are sure to please art lovers who want highly creative, erotic, and beautifully executed male art.
Jaron also contributes to the art community by modeling for drawing, painting, and photography. He poses online for groups and individuals around the world. And yes, he models nude. I probed into this with Jaron and he indicated that the first time he stepped onto a posing stand, sans clothing, was for the San Diego Gay Men's Art Group. He told me that he loves being naked and that he enjoys having people see him nude. He explained to me that posing is good for his soul and that it makes him feel happy and positive. To me, those feelings, and his poise and creativity while posing, help make Jaron a sought-after model.
Since I've been posing for years and I've often been asked if I ever get an erection while posing I felt it was fair to raise that issue with Jaron. He indicated that at times he gets aroused when posing and that he enjoys that experience. Right on Jaron! That happens and it's great that he's not concerned; it's life. (I'll add that when I'm posing I enjoy that as well; there's nothing to be ashamed about at all. An erection is normal!
If you or one of your friends is considering posing Jaron's advice is to start slow to see if you like the experience. He suggests starting at a free event or offering your naked body at no charge for the first time to test the waters. If you love it the way Jaron does I'm sure you will find classes and individuals who would be eager to have you pose.
I can't end this Sans Clothing column without giving you a way to contact this engaging and talented artist and model. You probably want to purchase some of his art or have him model for you. Here's his info: On Instagram go to @stokesjaronalex. Via email it's jalexstokes702@gmail.com. And, as I mentioned earlier if you want me to email you a copy of my Jaron created rainbow dong let me know. That will be my Valentine's Day gift to you.
I'd love to hear from you. Sans Clothing and my novel are all about nudity, exhibitionism, and voyeurism. If these are issues you'd like to discuss with me shoot me an email: stuauthor@gmail.com. And I'm always happy to share photos from my posing for art classes–no fee, just ask.