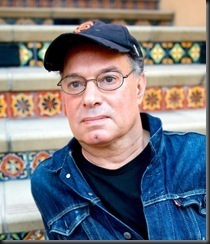 David-Elijah Nahmod is a film critic and reporter in San Francisco. His articles appear regularly in The Bay Area Reporter and SF Weekly. You can also find him on Facebook and Twitter.
David developed Post Traumatic Syndrome Disorder (PTSD) after surviving gay conversion therapy as a child and has found that many in the LGBT community suffer from severe, often untreated emotional disorders due to the extreme anti-gay traumas they endured. This column chronicles his journey.
Raising A Glass to the Disabled
In July 1990, Congress enacted the Americans With Disabilities Act, a wide ranging civil-rights law meant to prevent discrimination based on disability.
Each July, people with disabilities celebrate the passage of this important legislation.
Disability comes in many forms: blindness, deafness, loss of limbs, as well as emotional and mood disorders such as manic depression and Post Traumatic Stress Disorder–all are among the conditions covered by ADA Law.
"The numbers are staggering," said Scott Monette. "Almost 57 million Americans are living with a disability. Two thirds of whom are completely outside of the workforce. It struck me that this is the last significant minority group that is outside of mainstream society in the country."
Monette feels that raising disability awareness and visibility will bring about much needed positive changes to the lives of people who are disabled. "Disability could touch each and every one of us," he points out. "Disability cuts across race, gender, ethnicity, sexual orientation and income levels. On top of the 57 million Americans living with disabilities there are another 100 million Americans where someone they love has a disability. That is almost 53% of the total American population."
These are issues which Monette understands all too well. His own son is disabled. "Matthew, 20 years old, is deaf, and is on the autism spectrum," Monette explains.
Inspired by his son's disabilities Monette launched 100 Percent Wines, a company dedicated not only to fine wines, but to helping the disabled find their way into the workforce.
"I wanted my work to have meaning and to try to address an issue that was becoming more and more relevant for our family as Matthew got older, his employment," Monette said. "I started talking to everyone about potential job opportunities and really did not see a pathway for Matthew or others that I was excited about. The more people I spoke to, the more I didn't hear anyone talking about fundamentally changing the employment prospects for this population. I was naive enough to want to try."
Monette explained why he chose wine as his product. "Wine is about celebration," he said. "I wanted to have this conversation in a positive and uplifting way, not focused on social justice or discrimination. You have a bottle of wine with family or friends because you are celebrating something. I thought that if we could bring people living with disabilities into this conversation over a glass of wine, that would be interesting."
Monette added that in his view, helping people to find work is the best social program. "It's about dignity and respect," he said. "A job unlocks economic possibilities, but think about the self-confidence and pride you felt over doing a good job."
Monette may have found the perfect spokesperson for 100 Percent Wines. Belo Cipriani was fully sighted until age twenty-six–a vicious assault in 2007 left him totally blind. Nine years later Cipriani, author of the acclaimed, award winning book Blind: A Memoir, is an in-demand speaker and columnist who addresses disability issues.
"I was moved by what he had been through but even more so by his attitude towards it," Monette said of Cipriani. "I don't think anyone would blame him for being angry and bitter but he was the exact opposite of that. I am not sure if I could have handled things with as much grace as he has."
Cipriani, according to Monette, has become an important asset to 100 Percent Wines. "We are honored that
Belo agreed to represent us publicly," Monette said. "He is helping us in ways far outside of his comfort zone which speaks to how important our mission is to him as well. Belo is as passionate about employment creation as we are so we are a great team. I have learned a lot from Belo and look forward to continuing our relationship. On top of being a great spokesman for our cause, he is a good businessman that understands what it takes to be successful."
In addition to making people's lives better, partaking of 100 Percent Wines is a guaranteed taste bud pleasing experience–we were able to sample the company's red blend before filing this column. The red blend and Sauvignon Blanc have already been rated 90+ points and have been endorsed by Master Sommeliers. They have just introduced a moscato wine as their third variety.
"We knew that we had to have a great product experience," said Monette. "The bar is high but we would not have gotten into the business if we could not deliver. "Our wine is made with a musque clone grape so it has more fruit and less acid than a traditional wine. Our motto is drink wine, help people so we hope those are your two favorite things to do in the world!"
If you'd like to enjoy a superb wine tasting experience, or to get involved with 100 Percent Wines disability mission, please visit:
www.drinkwinehelppeople.org