The following article about Suzanne Nielsen was written and submitted by Paul Sanchez. The "endorsements" section was added editorially.
Face Up is the winner of the 2021 Oleb Books Poetry Prize. Nielsen is also the author of I Think You Should Know (So'ham Books). Her poetry, fiction, and essays have appeared in literary journals nationally and internationally; some of these include Identity Theory, The Pedestal, Word Riot, and 580 Split. She is an associate professor of creative writing at Metropolitan State University in the Twin Cities of Minnesota. When she is not writing or grading papers, she can be found hanging out with her menagerie of rescue cats and dogs in her St. Paul home.
Author Suzanne Nielsen's Oleb Books titles include "Face Up: A Collection of Outlaw Poems."
On July 26 disabled people all over the USA will no doubt be celebrating the 33rd anniversary of the passage of the Americans With Disabilities Act (ADA). The landmark legislation affords people with disabilities protections from discrimination in housing, employment, and all public accommodations. The ADA also requires employers to provide reasonable accommodations to people with disabilities and imposes accessibility requirements on public accommodations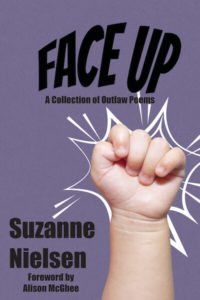 Suzanne Nielsen, who resides in the Minneapolis/St. Paul twin cities area, states that July 26 is indeed a day to celebrate. Nielsen lives with what is known as invisible disabilities—to look at her you'd never know that she was disabled, Yet for over half a century she has lived with chronic depression. She is also hearing impaired and is a breast cancer survivor.
"I had to fight like hell to stay alive," Nielsen said in an interview with Diversity Rules. "And I did because I never gave up complete hope. When I started to experience hearing loss I gravitated toward hot pink because I'm not concerned about what impression hearing aids leave on others, and quite honestly, at this stage in my life I don't care. That is one of the benefits of aging."
Nielsen will be acknowledging the ADA's passage by taking part in a Zoom meeting talk about invisible disabilities. She's happy that President George H. W. Bush signed the legislation into law, though she feels that the Republican Party has lost its soul, pointing to Donald Trump's mimicking of a disabled person.
"The passage is a civil rights concern," she said. "And I am old enough to remember seeing people with disabilities struggling to be taken seriously. We've progressed, but we must never forget the fight to get this into law."
Being disabled has not stopped Nielsen from living a full and accomplished life. She is a writing teacher at Metropolitan State University in St. Paul and is also a published poet. She is the author of Face Up: A Collection of Outlaw Poems, which was recently published by Oleb Books, a company that only publishes works by writers with disabilities.
"The Outlaw Bible of American Poetry taught me a lot about the words 'outlaw' and 'poems'," Nielsen said. "This collection is often referred to as the 'wild west of American poetry' to includes voices like Janis Joplin and Bob Dylan. Check it out. When I taught a course titled Outlaw Poets I used this collection to inspire anti-establishment juices to flow."
Nielsen considers Face Up to be a collection of risks.
"Lots of pieces within the collection are snippets shared with the reader to serve, if desired, to lend a voice of advocacy for others living with disabilities, either hidden or visible," she said. "Fists for Hands is my first disclosure, followed by Last Call for Depression, Pink Plugs, Reading Lips, Minnesota Heat,
Profile of a Poet is just a few I'll mention from the collection that are risks that needed to be written."
And Nielsen indeed takes risks. In Pink Plugs she recalls getting her first pair of hearing aids.
"I'd paid the price in the '70s by hearing Robert Plant say live at the St. Paul Civic Center, 'St. Paul, you're much too much," she writes. "But I couldn't much hear that now, so I went to Seral, at the Como Clinic in St. Paul. St. Paul, who was struck blind for three days until surrendering to the messiah. Two weeks later I went back to see Seral and to pick up my hearing aids."
Nielsen reports that some of her students identify as depressed, which she thinks is common for people in the arts. This has opened opportunities for her to talk about her depression and her coping mechanisms.
"Of course, my essential coping mechanism is my writing, some that are still hidden from others," she said.
She added that disabled people work hard to be what is considered "normal."
"And what I mean by that is we work hard for validation until we realize that the most important validation comes from within," she said. "But we need to reach out to others at times as well. If you listen carefully to yourself each night before you drift off to sleep, your soul will guide you."
Face Up: A Collection of Outlaw Poems by Suzanne Nielsen can be purchased in Kindle and paperback editions at Amazon.
Suzanne Nielsen Endorsements
"Face Up: A Collection of Outlaw Poems is a powerful testimony of survival.
It's a force to reckon with, deserves to be in any library strong in contemporary poetry and women's writings, and ideally will assume its place of power in book club discussion circles. There, poetry can take on a new role as a major influence in and focus on living a passionate, rebellious life that eschews the mundane."
D. Donovan, Senior Reviewer, Midwest Book Review
"There's a certain hard-bitten, darkly humorous sort of tone that seems to be unique to St. Paul natives, and Suzanne Nielsen has mastered it. The autobiographical poems in Face Up are thoughtful, assertive, and funny, as bracing as a free fall down the Ramsey Street hill without brakes, and as welcome as running into a favorite friend at the end of an eastside bar."
Andy Sturdevant, Co-Author, Closing Time: Saloons, Taverns, Dives, and Watering Holes of the Twin Cities
"Face Up exists where we live and dream and tell our friends about the harmony and discourse of our days and nights. It is not only what we all should read but what, if we allow it to, reads us."
Akmed Khalifa, author of The Camel's Shadow Has Four Humps and City Suite: A Collection of Short Stories
"Suzanne Nielsen's poems are peopled with wry survivors attending to their lives with purpose and humor. In these poems of tenderness and grit, sorrow is always accompanied by wonder."
Jacqueline Berger, Author of The Gift That Arrives Broken and The Day You Miss Your Exit
"This collection treads a curious step between the edge of Midwestern myth and history, secret profundities, and the everyday coffee cups worthy of verse. Strolling through the moonglow, blue noise and questions of true identities and the wisdom of a tree house, this is an ink-stained blast of wonder and inquiry sure to spark delight…"
Bryan Thao Worra, Lao Minnesotan Poet Laureate and Author of DEMONSTRA and Before We Remember We Dream
"While the poems in Face Up don't shy from the grit—we encounter doomed relationships, PTSD, and addiction—it's not all hopeless. We empathize with the shattered and become participants. These are poems of a life lived."
Flower Conroy, Author of The Awful Suicidal Swans and A Sentimental Hairpin