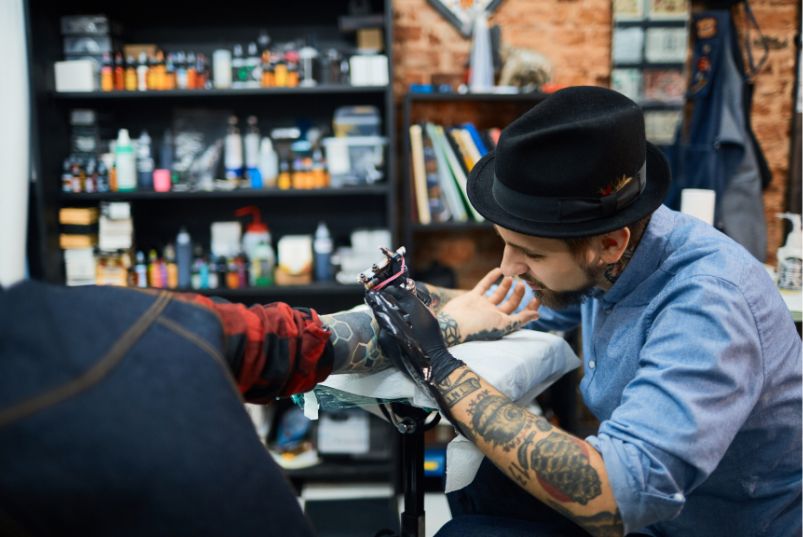 Getting a tattoo is a big decision, and choosing the right artist is crucial to ensuring you get a tattoo that you love. With so many tattoo artists out there, it can be overwhelming to decide who to trust with your body art. Luckily, we're here to guide you through what to look for when choosing a tattoo artist.
Experience and Training
When choosing a tattoo artist, you must consider their experience and training. Look for an artist who has been in the industry for a while and knows how to handle different skin types and tattooing techniques. Experience brings expertise and confidence, which can be crucial when working on intricate designs or cover-ups. Ask about their training and apprenticeship programs, and look for artists who have completed a formal training program or have worked under an experienced mentor. Additionally, ask if they have any certifications or licenses that demonstrate their commitment to their craft.
Style and Specialization
Tattoos are a form of self-expression, so find an artist whose style matches your preferences. Look for someone who specializes in the type of tattoo you want and has experience executing similar designs. For example, if you're looking for a realistic portrait, you might want to seek out an artist skilled in hyper-realistic tattoos.
On the other hand, if you're looking for a traditional or neo-traditional tattoo, look for an artist who has experience with bold lines and bright colors. Don't be afraid to ask to see an artist's portfolio and look at examples of their past work to see if their style aligns with your vision. This piece of art will be on your body forever, after all, and you want to make sure it looks perfect.
Hygienic Practices
One of the most important things to look at when choosing a tattoo artist is their hygiene practices. A reputable artist should follow strict safety guidelines to ensure their workspace and equipment are clean and sterile. Look for an artist who uses disposable needles and tubes, wears gloves throughout the entire process, and disinfects all surfaces and equipment before and after each appointment.
You should also look for an artist who takes extreme care when setting up their tattoo palette. They should use single-use ink cups and discard them after each use and have a sterilization machine on hand to ensure the proper disinfection of reusable tools. Don't hesitate to ask about their cleaning protocols and make sure they take hygiene seriously.
Communication Skills
Effective communication between you and your tattoo artist is crucial to ensure you are both on the same page when it comes to your design. A good artist should be able to listen to your ideas and provide constructive feedback and suggestions based on their experience and expertise. Look for an artist who takes the time to explain the process and answer any questions you might have. They should also be open to making changes or adjustments to the design based on your feedback.
A good tattoo artist won't become frustrated if you ask them to adjust the placement of the tattoo stencil multiple times. Good communication skills extend beyond the initial consultation and should continue throughout the entire process, from setting expectations about pain level to providing aftercare instructions.