VH1 has revealed the cast for the milestone 10th season of Emmy® Award-winning "RuPaul's Drag Race." The newest queens vying for the title of "America's Next Drag Superstar" were announced during a recent episode of "RuPaul's Drag Race All Stars," followed by a Facebook Live that introduced fans to the 14 competitors. The supersized season of "RuPaul's Drag Race" premieres on Thursday, March 22 at 8:00 PM ET/PT and will feature 90-minute episodes, giving fans more fashion, lip-syncs and drag than ever before. The Emmy® Award-nominated after-show "RuPaul's Drag Race: Untucked" will premiere immediately following at 9:30 PM ET/PT.
"While preparing for season 10, I realized that one of our contestants was 11-years-old when we first launched Drag Race," said executive producer and two-time Emmy® Award-winning host RuPaul. "The fact that we're still here and still going strong is because of our talented queens. They are the heart and soul of the series. And as they continue to evolve and push the boundaries of drag, so does Drag Race."
The fourteen queens competing to make their mark on the historic 10th season include:
Asia O'Hara (Dallas, TX) | Twitter/Instagram: @AsiaOharaLand
Texas is back in the house. A formidable competitor on the pageant circuit, Asia won Miss Gay America the first time she entered. Multi-talented, Asia has a costuming business on the side, designing for color guard teams and ice skaters.
Aquaria (Brooklyn, NY) | Twitter: @aquariaofficial, Instagram: @ageofaquaria
Aquaria already has a big reputation preceding her into the competition. At just 21, Aquaria has been photographed by Steven Klein for the pages of Vogue Italia. Confident and at the center of New York's Drag Scene, Aquaria has the support of some of nightlife's biggest legends.
Blair St. Clair (Indianapolis, IN) | Twitter: @ BlairStClair, Instagram: @ blairst.clair
A small-town girl with big city dreams, Blair St. Clair is a Broadway baby at heart. Combining her love of musicals with her passion for drag, Blair plans to sing, dance and act her way across the finish line of the competition.
Dusty Ray Bottoms (New York, NY) | Twitter: @DustyRayBottoms, Instagram: @dustyray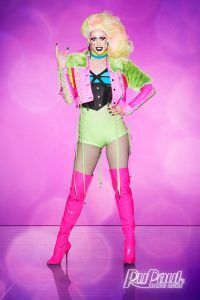 Self-described as "dark, glamorous and trashy," this punky queen defies categorization. Look for the queen with the signature dotty-faced makeup. A Kentucky native who moved to the big apple to pursue acting, Dusty channeled his desire to perform into drag.
Eureka O'Hara (Johnson City, TN) | Twitter/Instagram: @eurekaohara
She's back! Season 9's Southern belle departed way too soon after injuring her knee. But Eureka is back following knee surgery, and hungrier than ever to prove herself the second time around.
Kalorie Karbdashian-Williams (Albuquerque, NM) | Twitter/Instagram: @kalkarbdashianw
Kalorie's infectious giggle might be the first thing to enter a room, but it's her gravity-defying ass that has all eyes on it as she leaves. This twerk queen proudly flaunts her curvaceous body in daring sexy dance performances.
Kameron Michaels (Nashville, TN) | Twitter: @KameronMichaels, Instagram: @kameronmichaels
You're equally as likely to find this tattooed muscle queen down at the gym pumping iron, as you are to find performing at her local drag bar in Nashville. Deliberately intending to capture strength and beauty, Kameron Michaels is the body builder Barbie doll.
Mayhem Miller (Riverside, CA) | Twitter/Instagram: @TheOnlyMayhem,
Mayhem enters the competition with big expectations, as the sister of Drag Race alumni like Raven, Morgan McMichaels, Delta and Detox. Mayhem dazzles her Los Angeles' audiences with polish and sass.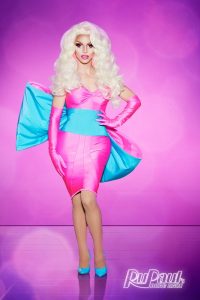 Miz Cracker (New York, NY) | Twitter/Instagram: @miz_cracker
Proud to call Bob The Drag Queen her drag mother, Miz Cracker began doing drag as a member of Bob's Marches for Equality in Times Square. Pretty and witty, Miz Cracker captures you with her beauty, and then surprises you with the belly laughs.
Monét X Change (Bronx, NY) | Twitter/Instagram: @monetxchange
Monet blurs the lines of comedy, performance and New York City grit. A degree in Opera Performance means she's the singer of the season, while her bright colorful street style ensures all the judges eyes will be on her.
Monique Heart (Kansas City, MO) | Twitter: @IAmMoniqueHeart, Instagram: @kevinandmonique
A creative well-rounded queen who knows how to do hair, makeup, dance… and make an entrance. A devoted Christian, Monique enters the competition hungrier than most to win, and with a promise to live up to her moniker as the "Heart of Season 10."
The Vixen (Chicago, IL) | Twitter/Instragram: @TheVixensworld
Hailing from Chicago's South Side, The Vixen combines elements of political art and protest into her performances. This vocal, woke queen brings both activism and fire to the stage – and is not about to take on her competition lying down.
Vanessa Vanjie Mateo (Tampa, FL) | Twitter/Instagram: @VanessaVanjie
Get these cookies, baby! Drag Race Season 3 and All Stars Season 1 star Alexis Mateo's drag daughter brings electricity to the stage, with her high-energy dance performances and winning personality. Will Vanessa finish the job that Alexis Mateo started?
Yuhua Hamasaki (New York, NY) | Twitter: @YuhuaNYC, Instagram: @yuhuahamasaki
Originally hailing from China, Yuhua moved to Manhattan's Chinatown when she was seven. Now a sickening seamstress by day and a hard-working queen by night, Yuhua regularly sews gowns for New York royalty like Peppermint and Bob the Drag Queen.
For more information on "RuPaul's Drag Race" and up-to-date news, go to http://www.vh1press.com/series/rupauls-drag-race-season-10 and follow @RuPaulsDragRace and #DragRace across all social media for all the latest tea.
"RuPaul's Drag Race" and "RuPaul's Drag Race: Untucked" are produced by World of Wonder Productions with Fenton Bailey, Randy Barbato, Tom Campbell, Steven Corfe, Mandy Salangsang and RuPaul Charles serving as Executive Producers. Pamela Post and Tim Palazzola serve as Executive Producers for VH1 and Jen Passovoy serves as Producer.
__________________________________________________
If you enjoy reading Diversity Rules Magazine, please consider subscribing, advertising or investing in its future.