The November issue features character actor and stand-up comic Jason Stuart.
Jason Stuart is a prolific character actor & stand-up comic. Born in the Bronx and raised in the Fairfax district of Los Angeles, he resides in Palm Springs and lives next door to his 85-year-old Jewish mother, Gloria, but does not live with her! Stuart is a self-described insecure Jewish kid who turned to theatre and performing to mask his emerging sexual identity. He confesses, "Barbra Streisand in "Funny Girl" saved my life". Streisand inspired him in such a profound, indescribable way, and like many other gay men of a certain age, ironically found himself attracted to Omar Sharif. He has concurred type casting by playing "Joseph Randall," a heterosexual, Christian plantation owner in 1831. A significant supporting role in one of the most talked about films in recent history is "The Birth Of A Nation" by filmmaker Nate Parker. The drama reflected the prejudice he's fought against his entire life and gave him the kind of confidence that he has today. Stuart, an LGBTQ rights advocate through his subtle characterizations, reflects his enlightenment to his life's calling by combining his humanitarian beliefs with his mastery of the craft of acting. As a teenager, he played Santa Claus in a play. Wearing a fat suit afforded him the insight that being a Jewish and closeted gay teenager was like wearing a Santa fat suit. As a huge fan of "I Love Lucy," Jason Stuart saw Ms. Ball get the biggest laughs when she was pregnant. He realized the key to great acting is doing the unexpected, and performed the role as if he was "Lucy" pregnant! A formula that's worked for him, and he hasn't looked back since.
JRK: Before we get into the meat of the interview, can you tell us a bit about Jason Stuart, where you are from, and all that good background stuff?
JS: I was born in New York and moved to Los Angeles when I was nine months old. I always say I was in a car with my parents. And I was very short, and the car was moving, so I had no choice. I was raised in the Fairfax area of Hollywood, California, and lived there with my father, who is a Holocaust survivor, and my mother, who is a beautician, till 2019, when I moved to Palm Springs, California, so that I could be young again! Again, looking for my boyfriend. I want a guy who has a car and doesn't live in it.
JRK: You are celebrating 30 years of being OUT. Your bio says that you were frustrated with living in the closet and decided to publicly come out on national TV on an episode of Geraldo Rivera. Can you tell us what you felt when you made such a public pronouncement of who you are? What were some of the reactions to your announcement? Did you tell anyone ahead of time you were going to do it?
JS: When I came out on television in 1993. I, of course, told my parents, friends, and agents. But I had no idea what it would be like as there were very few people at that time. I would say it was 50-50. Some people thought I was making the biggest mistake of my life, and others thought I was very brave. It didn't feel brave. It felt scary and exciting at the same time. Indeed, it was a relief not to have to worry about someone tapping me on the shoulder and firing me because I was gay. That would come later.
JRK: Your bio says you were " a self-described insecure Jewish kid who turned to theater and performing to mask his emerging sexual identity." Can you tell us more about that and how it helped you deal with your sexuality?
JS: When I was a kid, the only Jews on television that I can remember were Rhoda on the "Mary Tyler Moore Show. " And, of course, Barbra Streisand in the movies. But they were women! They were both funny and sad on the inside, just like me. It wasn't until I saw the TV movie "That Certain Summer." It is about a man who is going to tell his son that he was gay that particular summer, hence the title. Watching that movie changed my life, and I realized how Film, TV, and theater can make you feel less alone. And for me, when I was a kid, it became my family.
JRK: I know growing up in a somewhat traditional Roman Catholic environment acted as a regulator with me in terms of my formal coming out, as doing so created a degree of guilt and depression within me. How did growing up in a Jewish family influence your coming out, if at all?
JS: As I said, my dad was a Holocaust survivor, so it didn't matter what I was feeling because what happened to him was so much worse. My father would always say in a Polish accent. Why are you crying? I didn't have a piece of bread to eat as a kid! I would say, Dad, I'm eight and don't understand what you're talking about. My mom was very young when she got married at 17. She had three kids by age 25 and was always looking for a way out. Both my parents were significantly self-involved— my father with his family and my mom with her hair, clothes, and men. I think I went into showbiz so I could get some attention and then realize that I fell in love with the work.
JRK: We are in a very toxic time for queer folks to live, with all the anti-trans and gay movements happening nationwide, among many other disgusting actions being taken by those who wish to instill their limited worldview on the rest of us. What advice can you give those in the closet watching the reprehensible actions of the anti-LGBTQ movement?
JS: As a gay man and a Jew, I have a lot of feelings these days. We are living in a time that I never thought would happen again. It's heartbreaking. I have fears that I've never felt before. I tell most folks to watch your back, and if you're in a safe place, get out. Life is too short to be around people who don't like you. Go to where the love is. That's why I live in Palm Springs now. On the positive side, I do what I love right now, and if something feels good, I do it. If it doesn't, I say no.
JRK: Tell us about your Amazon comedy series "Smothered," which has fostered your motto of "we do not wait for permission to create?"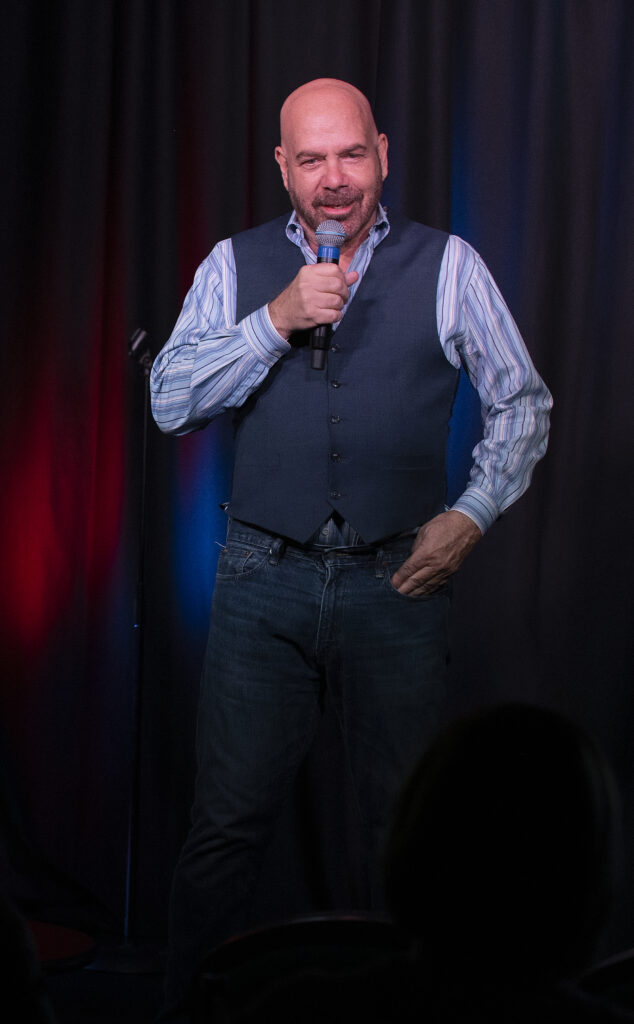 JS: The show is the brainchild of myself and the funny and talented Mitch Hara. "Smothered" is about two men of a certain age who have been in a relationship for over 30 years, hate each other, and can't afford to get divorced. We produced in the series together. Last year, I won the best actor in a comedy at the Indie Series Awards for my role and was nominated for best new series. The second season is now dropped, and we're excited for people to watch. Season 2 has comedy and drama and really takes you on a ride. The series will make you laugh out loud, and don't be surprised if you shed a tear or two. You can find where to watch it on smotheredtv.com.
JRK: Your bio says that Lucille Ball and a quote by Viola Davis have influenced you. Can you tell us about that influence, and how does it continue today?
JS: When I was a kid, I did a play called "Santa Claus for President. " And I had to wear a fat suit, and I noticed when I watched "I Love Lucy" and she was pregnant, people laughed when she got in and out of the chair. When I got the part, I pretended I was Lucille Ball pregnant and got the same laughs. Her comedy has always inspired me as she comes from being an actor. Viola Davis inspires me on such a deep level. I don't even know if there are words for it. She came from a difficult background, different from mine but the feelings seem the same. I live by her quote, "My dreams had to be bigger than my fears. " She touches my heart as an artist and as a human being.
JRK: What is up next for Jason Stuart? Where do you see yourself in the next few years?
JS: I have a film called "Garlic Parmesan" it's a dark comedy much like "Napoleon Dynamite". But I dream of working with Martin Scorsese, Spike Lee, and Jane Champion. They're on my bucket list. I'm also in the new Comedy special "Laughs Proud" that will be coming out very soon with all these incredible new comedians to mark my 30th year of being an out comedian and my 40th year in Stand Up Comedy.
JRK: We can end with an open-ended question. Is there any burning issue, comment, or other advice you want to leave with readers?
JS: I always remember when you're going up in the elevator, success, take people with you. Be as kind as you can and remember to breathe and listen, and lastly, don't forget to laugh!
If you enjoyed this interview with Jason Stuart, check out the Diversity Rules Magazine Blog for more great articles and features.