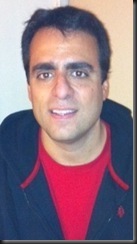 Tony Guadagnino is a marketing consultant. Located in New Jersey, his clients are based across the country, focusing on social media to build their presence on the internet. He studied creative writing in college and is currently working his first novel on the subject of bullying. He lives with his partner Mark.
Ten months of 2015 have past, and we have less than 60 days before we ring in 2016 and make all of those New Year Resolutions that most of us break within 30 days. November is the month of two traditional holidays, and I am going to focus on one right now —- Veterans Day, November 11th.
You probably thought that I was going to write an article about Thanksgiving, since I am a participant in the MACY'S Thanksgiving Day Parade (I will be captain of Diary of a Wimpy Kid balloon this year). And there are some gay history to the holiday, too. For instance, how many of you know the Pilgrims, though they settled at Plymouth MA, anchored The Mayflower at Provincetown Harbor? I wonder how many gay Pilgrims (and you know there were some) were the original settlers of the Provincetown dunes. However, let's focus on Veterans Day, and what one group in Washington, D.C. will be hosting, and reflect about one man who has been left out of the history books.
While the adults of America pause to remember the men and women who made the supreme sacrifice, school kids recognize this holiday as a day off from school. (Are they taught about the veterans of our wars besides the American Revolution and the Civil War?) Nevertheless, Washington, D.C. is doing something special this year. The D.C. LGBT Center's Center Military program will host a special wreath laying ceremony and memorial service. (Join the FB Group Veteran's Day Wreath Laying for LGBT Veterans to participate in this event.)
Last year, the Center Military held their ceremony at the grave of Air Force Pilot Leonard Matlovich. Sgt. Matlovich was a Vietnam veteran who, in 1975, became the first gay service members to publicly reveal his sexuality, which challenged the military's exclusion on gays and lesbian Americans. He was also the first gay man to appear on the cover of Time Magazine (a feat that even Harvey Milk did not achieve).
For those who do not know, or do not remember, Leonard Matlovich, allow me to give you a history lesson on a truly brave man! A pioneer for the LGBTQ community, at the time, the Air Force did not allow gays to serve, except for "extenuating circumstances" (drunk, acting immature, or a one-time experimentation). During Matlovich's September 1975 discharge hearing, he was asked by a representative of the Air Force if he would sign a document, pledging he would "never practice homosexuality again"; in exchange, he would be allowed to remain in the Air Force. Matlovich declined. Matlovich was over thirty years old and refused to live in the closet anymore. He was out and proud.
Even though he held an outstanding military record, completed several tours of duty in Vietnam, and received high performance evaluations, the panel ruled that Matlovich was unfit for service, and he was officially removed from the Air Force in October 1975. He sued for reinstatement, determined to be put back into service and serve the country, doing what he loved best. It took nearly five years, but in September 1980, the Air Force had failed to provide the U.S. District Court any hard evidence for his removal, and it was recommended by the judge that he be immediately reinstated into the Air Force and promoted to a higher post. However, the Air Force, which still did not want a gay man protecting the country, made a financial settlement offer, which Matlovich reluctantly accepted.
Sadly, Matlovich died in 1988, a victim of HIV/AIDS, at the young age of 44. He is buried at the Congressional Cemetery in Washington, D.C (coincidently, the same row as (alleged) cross-dresser and homosexual J. Edgar Hoover). His tombstone, which is meant to be a memorial for all gay veterans, does not have his name. Instead it says the following: "When I was in the military, they gave me a medal for killing two men and a discharge for loving one."
Today, there are thousands of gay and lesbian officers serving our country; Sgt Leonard Matlovich wasn't the first gay man in the military, but he was the one who began breaking the barriers for our armed forces today. This Veterans Day, talk to your kids about him. It's a person in history worth discussing.