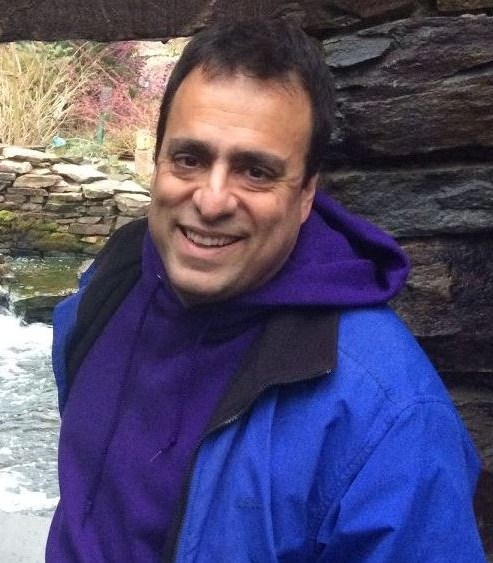 Tony Guadagnino is a marketing consultant. Located in New Jersey, his clients are based across the country, focusing on social media to build their presence on the internet. He studied creative writing in college and is currently working his first novel on the subject of bullying. He lives with his partner Mark.
As we leave the 1970s and enter the 1980s, there truly is only one hard-core Gay Icon to discuss. The person is so iconic, that one name is only needed. Breaking out in the music scene with the first single in October 1982, this artist had twenty-six hit singles throughout the decade (7 made it to the #1 spot). In addition, the performer was named by Billboard as the #2 Artist of the 1980s (behind Michael Jackson). Of course, I'm talking about the Material Girl, aka, MADONNA!
Madonna Louise Ciccone was born and raised in Michigan. A straight-A student during school, she was first introduced to the gay community from Christopher Flynn, her gay ballet teacher. She escorted him to local gay bars and discotheques throughout Detroit, making friends with the gay community, become a part of the community (probably dabbling in some homosexual relationships as well). Flynn was
the one who convinced her to give up college (she was attending a local college with a partial scholarship) and head to NYC to pursue dancing.
And that's exactly what she did in 1978 (at the age of 18, with only $35 in her possession). She bounced around the city, playing in bands and singing back-up until she was finally recognized and signed with Sire Records, releasing her debut single "EVERYBODY" in October 1982. When her self-titled album was released in 1983, her look became a fashion trend, influenced and imitated by young girls and women (and some gay men too). Created by stylist and jewelry designer Maripol, the look consisted of lace tops, skirts over capri pants, fishnet stockings, jewelry bearing the crucifix, bracelets, and bleached hair with heavy eye make-up and rosy red lips.
Her second album, titled LIKE A VIRGIN, caused a stir of controversy amongst the conservative organizations. The first single, titled "Like A Virgin," complained that the song and its video promoted premarital sex and undermined family values. There was a call for the song and video be banned from all outlets. All the controversy helped Madonna be catapulted to superstar status. The song spent 6 weeks at #1 of the Billboard charts, and the album sold over five million copies in the U.S. – the first female artist to ever accomplish such a feat.
Madonna's signature song is (arguably) from 1990 – a dance track titled "Vogue." The song, which spent 4 weeks on top of the Billboard charts, introduced the world to a new form of dancing – vogueing. Before Madonna popularized the dance, vogue was performed mostly in gay bars and discos in New York City. Madonna and an infamous video took it out of the shadows of ballrooms and to the forefront of dance; another step forward for the LGBT community led by "Mo."
In 2003, Madonna opened the MTV Video Music Awards with a medley of "Like A Virgin" and her second single "Hollywood." Performing with both Britney Spears and Christina Aguilera, she full-lipped kissed both of them during the song, which has become one of the most famous lip-locks between two celebrities. At the time, when gay relationships were sparingly shown on TV, and gay couples were just hugging, Madonna pushed the envelope again with the same-sex kiss (or kisses).
Madonna has always been an advocate for gay rights. Record producer told a story of a business meeting he had with Madonna. When he expressed unhappiness seeing two men kissing, Madonna responded: "Two men kissing should be looked at as normal! You represent everything I'm trying to change." She has been outspoken on every gay issue – from bullying to marriage. On an appearance of The Ellen DeGeneres Show, Madonna stated how she became close to the gay community back when she was a teenager, feeling lost and different in high school but found acceptance among the gay community.
In June 2011, Madonna asked her fans to support same-sex marriage in New York, asking New Yorkers to contact their state Congressmen with the message: All You Need Is Love. (The Marriage Equality Act passed one week later, legalizing same-sex marriage in New York.)
The Advocate has labeled her as the Greatest Gay Icon! And we can understand why, too. She has done so much for our community; she is a superstar of superstars, an Icon of Icons, the Queen for the Gays!
While I have listed a few snippets of Madonna with the LGBT community, there are so many more stories I could tell, but I didn't want to bore you with a 100,000-word article. Love her or hate her, Madonna is a legend to the world. She is a pioneer for women artists today, and a voice for the LGBT Community. And on the 16th of this month, she'll be celebrating her 61st birthday (the day after my 48th birthday).
HAPPY BIRTHDAY MADONNA! (AND ME)
__________________________________________________
If you enjoy reading Diversity Rules Magazine, please consider subscribing, advertising or investing in its future.