David Hernandez gained national attention with his powerful voice and affable personality as an American Idol finalist.
He began acting and singing at age six, starring in musicals and performing with various theatre companies throughout Arizona. As a teenager, David began writing original music and recording his material. 

A Phoenix native, Hernandez recently moved to Hollywood where he is writing new songs, working in the recording studio producing his newest music, and pursuing his passion for acting. He has already completed his first feature film as the lead in the movie Synthetic Truth.
In addition to American Idol, David has showcased his talents on The Ellen Show, The Today Show, MTV's TRL, EXTRA, Entertainment Tonight, Access Hollywood, Teen Choice Awards, TV Guides' Sexiest Stars 2008, Idol Tonight, Idol Gives Back and FOX-TV.
David counts Stevie Wonder, Ne-yo, Donnie Hathaway, Alicia Keys, Luther Vandross, Michael Jackson and David Foster among his musical influences.
David lives in Los Angeles, CA.
JRK: Before we get into the interview, can you tell readers a bit about David Hernandez, your background, where you are from and all that other good introductory stuff?
DH: I was born and raised in Phoenix, AZ. I started singing when I was about 6 years old in musicals. I went to college for Broadcast Journalism but dropped out to sing on cruise ships in an acapella quartet.
I signed to Universal when I was 22. I was Dropped and then auditioned for American Idol. The rest was history after that! I have been touring for the last 10 years. I just released my 2nd full-length album. I love to write and produce my own music.
JRK: You have just released a new studio album entitled, "Kingdom: The Mixtape." Can you tell us about that?
DH: I've been sitting on a lot of this music for years. I just decided that I was tired of waiting and I
wanted to release it. There's a lot of great material on the album that I wrote and produced. Why just let it sit on my laptop? It made no sense. When I put the music together it all sorta flowed and told a story. Even though some of the material was recorded 10 years ago, it was still relevant.
JRK: One of your songs, "Break," is about a personal struggle and overcoming that struggle. Can you enlighten readers a bit about that in hopes of touching someone who may be dealing with the same thing?
DH: Well I started taking Xanax years ago to help me sleep. I didn't realize my body was building a tolerance to it so I started taking more. Eventually, it all caught up with me and my body started shutting down. I decided it wasn't how I wanted to live and I needed help. So I checked into a facility and got the help I needed so I never had to take it again. It literally saved my life. I wouldn't recommend getting through that on your own. It was very hard. I also think people should be more educated on prescription drugs. Just because a doctor prescribes it, doesn't mean it's right for you.
JRK: Being a finalist on American Idol must have been an exhilarating experience. Can you tell us about that and how it changed your life?
DH: Totally! American Idol was a huge platform for me. It totally changed my life. It made me more professional and disciplined. It was like boot camp for singers. I also learned about different aspects of the entertainment industry.
JRK: Which performers have influenced you and how so?
DH: I was influenced by great singers like Stevie Wonder, Whitney Houston, Aretha, Mariah Carey. But I was also influenced by great songwriters like Dianne Warren and David Foster.
JRK: When you first started your singing career you had some record label challenges related to meeting someone else's expectations. Can you tell us about that? What advice would you give to struggling artists, as well as anyone coping with meeting another person's expectations?
DH: I've learned to do what is best for me. Being true to yourself is the biggest favor you can do for yourself. You'll be happy with your decisions and walk away knowing you were authentic. People can tell a fake from a mile away so it's important to keep it real. When people impose an image of a sound on you, just say no…this doesn't work for me…this isn't serving me.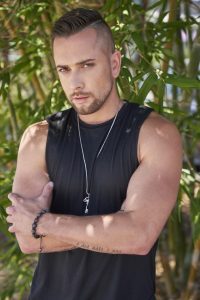 JRK: What have you been doing since the release of your first album in 2011 entitled, "I Am Who I Am?"
DH: I have been touring and making music. I also write for film and television so that's been an awesome creative outlet.
JRK: What is next for David Hernandez?
DHL More music! lol. I also started acting again so hopefully a TV show or a feature film in the near future. Of course, touring will always be a part of my life too. I'll always keep making music and I'll always keep singing.
JRK; What are some parting thoughts you'd like to leave Diversity Rules readers?
DH: Spread love and acceptance. Be nice to people. You never know what someone is going through. We all have our struggles so be understanding towards others.
_____________________________________________