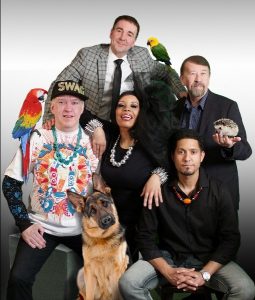 In 2013, Tony Sawicki and Clover Welsh, aka Clover Honey, created and launched a totally new and completely different magazine format series.  The two envisioned a show focusing on pets and animals, a subject which both shared a passion for.
"We wanted to do an animal show, but we also wanted to maintain a certain vibe.  We wanted the show to be hip, metropolitan, exciting, informative, inclusive, and urban based," Welsh explained.  "And we wanted to benefit animals."  They named the show Urban Animals and gave it the tagline "a human interest series about non-humans … and the people who love them."
"The primary mission of Urban Animals is to educate people about animals and to encourage conservation, rescue, adoption, and responsible pet ownership," Sawicki says.
The first two seasons of Urban Animals were broadcast to 18 million households in the New York/metropolitan region on WNYE-TV.  Also known as NYC Life, this television station operates under the auspices of the New York City Mayor's Alliance of Media and Entertainment. Now, after two successful seasons in New York, the show is revving up for national distribution.
Sawicki and Welsh added executive producer Robbyne Kaamil to their production team.  Kaamil, another long time veteran of the New York arts scene and a successful independent producer, writer, performer and animal rights activist in her own right, has been instrumental in prepping the series for its national launch.  Rounding out the production team are associate producers Dana Bryan and Hugo Lopez.   Long time crew member Roberto Zuluaga oversees green screening, lighting and sound, and Phil Scaringi is Urban Animals' primary location cameraman.
The team celebrated the show's national launch with a party on Saturday, June 4th at the D Pet Hotel in Chelsea, NYC.  Fans and supporters of the show joined the celebration, and invitees were also welcomed to bring small dogs and were encouraged to dress them up, as is often seen in the show's canine fashion reports.
Special guests included the Birdman and Bird Lady of Canarsie and their famous rescue parrots of Brooklyn, and Philadelphia pet fashion designer Kevin Ugarte who arrived with a hamster, a pig, a bearded dragon lizard, and a turtle … all dressed in haute couture!
In addition to mingling with other animal lovers, meeting some interesting furred and feathered creatures, and enjoying music, drinks and wine, partygoers were also videotaped for a television segment on the show, giving attendees and their pets a chance for national TV exposure.
The event was sponsored by Leon Engineer Bike Tow Leash.  Support for the URBAN ANIMALS television series is provided by Vital Essentials frozen and freeze dried raw meats, foods and treats for dogs and cats, Dermagic all natural skin care products for dogs and cats designed by an organic chemist, Dr. Kruger dietary supplements for complete lifecycle support for dogs and cats, and Virbac, the makers of Sentinel heartworm and flea protection for dogs.
Urban Animals will be made available to all 350 PBS affiliate member television stations across the United States this fall.  If Urban Animals is not available in your area. Reach out to your local PBS station and request it.
Check out Urban Animals on Facebook and Twitter too!
 ______________________________________
The independent gay press can only exist with the support of its readers and advertisers.  Please consider

subscribing

or

advertising

in Diversity Rules Magazine!