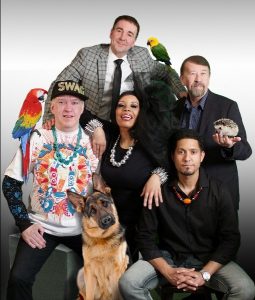 In 2013, Tony Sawicki and Clover Welsh, aka Clover Honey, created and launched a totally new and completely different magazine format series. The two envisioned a show focusing on pets and animals, a subject which both shared a passion for.
The primary mission of Urban Animals is to educate people about animals and to encourage conservation, rescue, adoption, and responsible pet ownership.
In addition to mingling with other animal lovers, meeting some interesting furred and feathered creatures, and enjoying music, drinks and wine, partygoers were also videotaped for a television segment on the show, giving attendees and their pets a chance for national TV exposure.
Urban Animals will be made available to all 350 PBS affiliate member television stations across the United States this fall. If Urban Animals is not available in your area. Reach out to your local PBS station and request it.
JRK: Can you give Diversity Rules readers an idea of backgrounds of team members, where you are from and all that other good stuff?
UA: Tony Sawicki is from Northern New Jersey and is the producer/director/writer/editor of Urban Animals. Before Urban Animals, Sawicki produced and directed a long running PBS television series called Under the Pink Carpet, an entertainment and nightlife news-magazine format show that aired for over ten years on PBS affiliated stations in the US, as well as in Canada and the Benelux territories of Europe. Sawicki holds a Bachelor of Science degree in Biology from Fairleigh Dickinson University and a Master's degree from Rutgers. He is the co-author of Danny Smashed, an intrigue novel about the crash, burn and subsequent re-invention of a tabloid celebrity heartthrob. Danny Smashed will be widely available on E-readers this December.
Clover Welsh lives in Jersey City, New Jersey and is the co-producer of Urban Animals. Clover was the Associate Producer and Drag Correspondent for the LGBT television news-magazine series Under the Pink Carpet. Historically, Clover is credited with being the very first transgender reporter on television. Clover has also appeared on TV on Discovery Network's
Here at the Movies, on Here! Network's Here at the Movies, and on MNN/Time Warner's Gender Talk. His film credits include roles in My Dead Boyfriend, Shore Thing, An Englishman in New York, Farm Girl in New York, and Between Love and Goodbye. Clover also had a starring role in the off-Broadway play, When Joey Met Bobby. An avowed animal lover and bird-keeper, Clover was once employed as a Veterinary Technician and is currently a regular contributor to Urban Animals' online magazine.
Robbyne Kaamil is from Brooklyn, NY and is the Executive Producer of Urban Animals. Before joining the show, Robbyne served as executive producer on an impressive roster of independent films and off-Broadway productions, and has also discovered and executed strategic media partnerships for clients across the globe. Enlisted by Ingrid Newkirk, the co-founder of PETA, Robbyne has written award winning public service announcements denouncing animal cruelty which ran on FOX, ABC, and Bounce TV affiliated stations. Along with New York Times best selling author and television host Jane Velez-Mitchell, Robbyne co-wrote a song called Free the Monkeys to shed light on monkeys that were being used in lab experiments in Florida. Robbyne is also the official relationship expert for Playgirl. Her new book "Getting to the Good Stuff: The Gay Man's Guide to Finding Love & Happiness While Dealing with Everyday Drama" is a compilation of her "Dear Diva" advice columns from Australia's popular DNA Magazine. The book will be published in November.
Dana Bryan resides in Jersey City, New Jersey and is the Associate Producer of Urban Animals. In addition to working tirelessly behind the camera, Dana brings his extensive graphics talent and experience into the production of all components of the Urban Animals franchise including the television show, the website, and the Urban Animals online magazine. Dana hails from New York's Madison Avenue, where he was an art director working with some of the nation's leading brands and overseeing a staff of eight designers. He also created Skywalls Studio, a design firm that attracted national attention and was featured in a number of renown publications including New York Magazine, Playboy, Handyman, and The Village Voice.
JRK: You have created a new show to air this fall focused on pets and animals. What was the motivation behind such a concept?
UA: Tony Sawicki and Clover Welsh worked together for many years on the LGBT series, Under the Pink Carpet. When the show first came out in 1999, the material was groundbreaking and the show broke through barriers, dismantled stereotypes, and portrayed aspects of the gay lifestyle that had never before been seen on TV. But ten years later, after the debut of shows like Will and Grace and Queer Eye for the Straight Guy, the LGBT lifestyle became mainstream on television, and Under the Pink Carpet was no longer fresh, unique or groundbreaking. The material risked becoming redundant and non-relevant. "It was time to move on to something else," Tony Sawicki has explained. "Clover and I were always stopping into pet shops, aquariums, and bird shops whenever we were working together. We were always talking about our pets. One day, our friend (Huffington Post Reporter) Jed Ryan even brought over his ferrets to my country house and we all had an excellent play date of sorts. Animals are a great interest and a passion that we and our friends all share." Ultimately Tony Sawicki and Clover Welsh decided to do a show about pets and animals, a show that would encourage conservation, adoption, and responsible pet ownership, and Urban Animals was born.
JRK; The first two seasons were broadcast very limitedly but garnered some great feedback. What was the reaction from the initial 18 million households that watched the show on WNYE-TV?
UA:  The best feedback we've gotten involves the tremendous diversity of our viewers. Animals are a topic that appeal to people of every age, race, gender, and orientation. We get so many people who tell us that they watch the show with their kids, even their grand children. We heard from a high-school teacher who plays the show in class for his students. The kids were so inspired by one of the reports, about goats, that they all volunteered to go and help with the goats, and they ended up making a huge difference and doing a lot of good for those goats. We love to hear that the show is cross-generational, and that it inspires people to help animals.
JRK: Will the more national version of the show vary much from the one that was initially broadcast?
UA: Our plan when the show goes national is to do stories and reports from all over the country. Examples include: a colony of burrowing owls that live just outside of a mall in Florida, a restaurant in Lexington Kentucky that has a jellyfish aquarium as its main attraction, and a family of road runners who live across the street from a television station in New Mexico.
JRK: In preparation of the shows more widespread release, what has been done to promote the show and the concept?
UA: Robbyne Kaamil and Tony Sawicki recently returned from the NETA (National Educational Television Association) conference in Baltimore Maryland, where they met with dozens of programmers and educational outreach professionals from public television stations across the country to promote the show and to encourage carriage in as many broadcast markets as possible.
JRK: There was a party on June 4th to celebrate the show's national launch. Can you tell us about that?
UA: The launch party was an exciting, unique soiree with a diverse species guest-list that was held at the D Pet Hotel Manhattan's Chelsea neighborhood on June 4, 2016. Hundreds of fans and supporters of the show, along with their companion pets joined the entire Urban Animals team to celebrate the show's launch to a national market. Crowds of people on the streets peered through the windows, awed by the sight of a wide variety of animals, from pigs to lizards, dressed up for a night on the town!
The anticipation on the red carpet at this event was not just caused by the fashions worn by women, but by the stunning couture donned by dogs and other more exotic pets. Celebrity Pet Fashion designer Kevin Urgarte arrived with his original creations modeled by a dwarf pig named Honey, a bearded dragon lizard called Papi, an angora hamster named Caitlyn, a calico rabbit, and a Shih Tzu named Princess. Dozens of other dogs were dressed to impress. Pet Stylist Ruben Santana had the fur on his star Pomeranian, King Tut cleverly cut and dyed to look like a sweater and pants. Grace Forster of the reality TV show Doggie Moms arrived with her famous well-dressed Yorkies, Portia and Rosie.
No clothing was needed with the beautiful plumage possessed by King, a giant blue & gold Macaw and Caesar, an umbrella Cockatoo, who dazzled the crowd every time they spread their wings and ruffled their feathers and mingled among the crowd. They attended to the party with Jerry and Nina, aka the Bird Man and Bird Lady of Carnarsie, from their sanctuary in Brooklyn. Designer Joanna Aqua of Pet Monarchy boutique came with her hairless Sphynx cat, while Jed Ryan, whose writings and photography appear in The Huffington Post, accompanied his pet gecko Zsa Zsa to the celebration.
Dr. Joshua Lachowicz, a veterinary oncologist who is also a singer/songwriter and performer whose music raises funds for cancer treatment in animals was a guest at the event. Mike Chiodo, photographer, artist and fancy pet mouse breeder who specializes in art that includes the mice, arrived with four of the NYC apartment-sized pets. Despite their tiny size, the little mice charmed and dazzled the crowd! Another photographer, Mark McQueen, who is called a pho-Dog-rapher and who creates dog and pet portraits, came to the gala with his wife, the celebrated latex/leather fashion designer (for people) known as The Baroness. Fitness instructor and media correspondent Summer Strand came with Angel Song, her Chihuahua, and producer Rich Johnson was shooting video to create a report for his series, The Dog Show, a local TV program that focuses on dog events all over the New York. Anthony and Amanda Benny, hosts of Benny and the Pets on Talk Radio were also present, recording sound-bytes and interviews.
The event was supported by Leon Engineer Bike Tow Leash, and the leash itself was demonstrated by fitness model Clint Kukla and his Alaskan Malamute Balto.
Support for the Urban Animals television series is provided by Vital Essentials frozen and freeze dried raw meats, foods and treats for dogs and cats, Dermagic all natural skin care products for dogs and cats designed by an organic chemist, Dr. Kruger dietary supplements for complete lifecycle support for dogs and cats, and Virbac, a leading companion animal health company that develops, manufactures and distributes products and services to keep pets healthy. Media support was provided by Hampton Pet magazine and Clear Conscience Pet.
JRK: The show will be available on all 350 PBS Stations this fall. How does one go about petitioning their local PBS Station to carry the show if it isn't already?
UA: Please petition your local PBS affiliate if you do not currently get Urban Animals on TV in your area! Wikipedia has a list of PBS member stations. Please google that list, find your local PBS affiliate station, and call or email them requesting that they carry the show. You can also email us through our website, urbananimalsonline.com, and we can put you in touch with a person you can contact at your local station.
JRK: Do you have any closing thoughts you'd like to share with Diversity Rules readers?
UA: Yes! the LGBT community is and always has been a huge part of our personal and professional lives, not only during the course of producing Under the Pink Carpet, but now with the production of Urban Animals as well. The LGBT community are a proven, committed community of pet lovers and animal rights and welfare advocates. Our entire production team embraces our LGBT friends and family, and want to express our gratitude to each and every one of you for being a major part of who we are and what we are working to accomplish.
 ______________________________________
The independent gay press can only exist with the support of its readers and advertisers.  Please consider

subscribing

or

advertising

in Diversity Rules Magazine!