Diversity Rules Magazine welcomes "The Hound" as its October feature.
The Hound is releasing his debut single, "Can't Let You Go," the first single off his upcoming album.  "Can't Let You Go" is electronic pop with a passionate, heartfelt message about the dangers of a toxic love.  Written and produced by the artist, The Hound admits to being in a low place in life when creating the song. "I didn't know what I wanted anymore," he explains. "I was very depressed and found myself in an incredibly toxic relationship with someone who suffered extreme highs and lows, and I was coming to terms with the fact that just because its love, doesn't make it right. People also love heroin and meth, and he was definitely like a drug to me.  It took everything falling apart for me to finally walk away."  Along with the track, The Hound has released a music video that stars gay adult film performer Adam Ramzi as his ex boyfriend. The Hounds' "Can't Let You Go" is available on iTunes, Spotify and all digital platforms.  The music video is available on Youtube.
"One of the lyrics that means the most to me is 'I could see the end, but it was easier to pretend, that we'd make it out alive and I wouldn't lose a friend,'" continues The Hound from his LA home.  "There's this awareness that the relationship would eventually fall apart, but until it did, things could be swept under the rug."
Prior to boy troubles, life had other complexities for The Hound.  He grew up in Santa Clarita, a suburb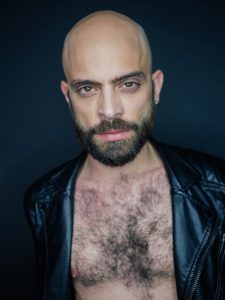 outside of Los Angeles.  Before learning to play an instrument, he would record instrumental tracks from videos games and create vocal melodies using lyrics from Shel Silverstein. "I was an only child with a single mom, so I had a lot of time to be creative with my thoughts and imagination."
Music was an escape from his parents divorce and his dad's alcoholism. He'd put on shows for his friends and teachers and was singing at every opportunity. Because of this, he was bullied throughout elementary school and junior high, but he persevered.  He knew that music was a gift and he wanted to explore all aspects of it.
__________________________________________________
If you enjoy reading Diversity Rules Magazine, please consider subscribing, advertising or investing in its future.