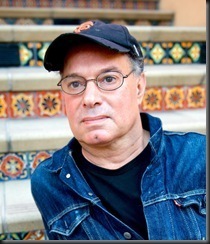 David-Elijah Nahmod is a film critic and reporter in San Francisco. His articles appear regularly in The Bay Area Reporter and SF Weekly. You can also find him on Facebook and Twitter.  His column entitled, "If You Could Read My Mind:  A PTSD Memoir" appears monthly in Diversity Rules Magazine.  The following is a special Op-Ed written by David.
Former child star Susan Olsen, beloved by millions for her portrayal of Cindy Brady on the classic sitcom "The Brady Bunch," made headlines in early December when she locked heads with Leon Acord, a Los Angeles-based writer, actor and gay activist. Acord, who has performed extensively on stage, is the writer. creator and star of "Old Dogs and New Tricks", a popular online sitcom about a group of middle-aged gay men who find themselves navigating the gay dating pool.
On December 5 Acord appeared as a guest on "Two Chicks Talkin' Politics," a chat show which Olsen co-hosts with LA radio personality Sheena Metal. The show is heard on L.A. Talk Radio, a popular online station. Olsen and Acord had strong disagreements on who the next President should be. Olsen supports Donald Trump. Acord supports Hilary Clinton.
After his appearance, Acord posted a message on Facebook in which he accused Olsen of spreading false information and called for LA Talk Radio to fire the actress.
Olsen responded with a number of public postings and private messages to Acord in which she called him a "cunt," a "faggot," and "human waste." After Acord posted Olsen's messages publicly, the story went viral. Both Acord and Olsen were banned from Facebook for several days, though Acord did not use offensive language of any kind and urged his supporters to do the same.
Facebook, Olsen and LA Talk Radio did not respond to Outfront's request for a comment, though LA Talk Radio did announce on the station's Facebook page that they had severed ties with Olsen. "Two Chicks
Talkin' Politics" was canceled.
"LA Talk Radio takes pride in its close and collaborative relationship with the LGBT community and will continue to provide a home for those who have hopeful and positive messages of togetherness and tolerance to share with our listeners," the station posted on December 9. "We will not tolerate hateful speech by anyone associated with our radio station and have severed our ties with a host that veered off the direction in which we are going."
On December 13 LA Talk Radio backtracked on their earlier statement. "Susan Olsen voluntarily advised LA Talk Radio that she was leaving the show and the radio station on the afternoon of December 8, 2016," the station posted. "The show was discontinued on December 9, 2016.
LA Talk Radio is not a political radio station and we hold no political position."
Olsen's outburst shocked many. In the past, she publicly supported marriage equality and spoke lovingly of her Brady Bunch TV dad Robert Reed, a closeted gay man who died of AIDS in 1992.
"Somehow the actual apology that I made days ago did not get posted." she posted on Facebook on December 16, the day she was allowed to access her account after her one-week banishment from the social networking site. "I am very sorry for ever hurting the LGBT community that I love so much. For that, I am sorry and frankly find it hilarious that I am being called a homophobe. What could be more ridiculous??? I think that the real LGBT community knows that I have and always will support them. I love you!."
The actress continues to express her support for Donald Trump.
"Getting fired is never a happy event, even when the person deserves it," Acord told Diversity Rules. "This is less a victory, more a badly needed course correction. I merely sounded the alarm. It was everyone, working together who made justice happen."
Acord said that he's ready to take on an even bigger adversary: Donald Trump himself. As the President-elect continues to claim that he's an LGBT ally while surrounding himself with people who oppose LGBT equality, Acord has launched a new Facebook group: No LGBT Rights Equals No LGBT Taxes. Now just over a month old, the group has more than one thousand members.
Acord posted the group's mission statement at the top of the group's page: "An Open Letter to Donald J. Trump & Company:
No taxation without representation. It's one of the main reasons we broke away from England and created America.
Please be advised: If/when you are so ill-advised to enact your threats of repealing marriage equality & allowing discrimination against LGBT in the name of "religious freedom," the LGBT members of this group believe we should withhold our federal taxes until our rights are restored.
You cannot strip us of civil rights yet expect us to still pay for the privilege of being treated like second-class citizens.
Push us. We'd LOVE to take this one to court. And we bet the American Civil Liberties Union, Southern Poverty Law Center & many others would love to join us.
You stand warned.
Members of "No LGBT Rights=No LGBT Taxes"
"It didn't really hit me until the middle of that night," Acord said of Election Day. "I woke up, as if from a nightmare, but quickly realized that I was waking up to the nightmare, Trump had won, and this was no dream. My spirits plummeted."
Acord added that he's fearful of what may be coming. "Even if you ignore his downright ignorant and hostile picks for his cabinet, the fact that he seems clueless about diplomacy, the fact that he's ignoring intelligence briefings to go on his ridiculous Evita Peron-like thank you tour, that fact that he's still tweeting bullshit doesn't bode well for this country," he said.
Acord explained that the formation of his Facebook group was a reaction to his post-election day despair."The GOP would prefer that we can be fired for being gay, lose our homes for being gay and that we can't get married," he said. "But they still expect us to pay full taxes as if we were getting the full compliment of rights that straight people take for granted."
The activist also noted Vice President-Elect Mike Pence's advocacy for gay conversion therapy as well as the promise of "religious freedom laws" which would enable people to discriminate against LGBT people on religious grounds as among the other reasons he formed his group.
"If Trump is so ill-advised that he makes good on some of his threats we are prepared to raise funds and do whatever it takes to fight and resist,": he said. "We're not trying to get out of paying taxes, We're insisting on representation for our taxation. We're insisting on equal rights for equal taxation."
Acord hopes to get the American Civil Liberties Union and the Southern Poverty Law Center involved should the fight become necessary.
"Go to protests," he urges people. "Get involved. Call your representatives, don't email them. If they insist on registering Muslims, I think every member of the LGBT community has to be the first in line to sign up and make the registers meaningless. Our Facebook group will be organizing a response in that regard. We're all in this together."
Acord specified that his actions aren't about "sour grapes", as he's been accused of. "We are objecting to a man who is a proven admitted sexual predator, racist, misogynist, xenophobe, serial liar and philanderer," he said. "We have to show Trump and his group of self-interested cronies that we are watching this every step–we are prepared to fight them every step of the way."
Facebook group: https://www.facebook.com/groups/1619242155038184/
__________________________________________________
If you enjoy reading Diversity Rules Magazine, please consider subscribing, advertising or investing in its future.