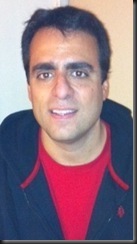 Tony Guadagnino is a marketing consultant. Located in New Jersey, his clients are based across the country, focusing on social media to build their presence on the internet. He studied creative writing in college and is currently working his first novel on the subject of bullying. He lives with his partner Mark.
There is a crisp feeling in the air. Rugrats are heading back to school, carrying their backpacks filled with paper-bag-covered books, spiral notebooks, travel pack Kleenex tissues, and a pen and two pencils. Each day is getting darker sooner, while the morning dew covers the automobiles that were parked overnight outside of a garage. Yes, it is the sign that summer is exiting from the Northern Hemisphere, and the fall season is taking its turn on us.
Summer is truly my favorite time of the year. Pants and shoes are exchanged for shorts and flip flops. I get to celebrate my birthday in August, and have you ever noticed that people are friendlier and relaxed during the season? Even Mr. Scrooge softens his hard exterior and his gruffness and becomes more tolerable to everyone.
But what I love most about summer — THE BEACH! I happily admit that I am a bum, a beach bum, and I spent many days on the beach with my friends. How many days? I'm not going to answer because you'll be jealous; however, I'll tell you that the number is closer to 50 than to 25. Friends who know me are aware they are not to plan parties or events during the summer months, because my RSVP will is a resounding "NO."
Running my own online business (go to www.tonyguad.com for info), I was able to shuffle my work schedule to spend some weekdays at the shore this season. With more beach time came more time for observing other beach goers and realize that despite the progress in modern technology, a gay-area beach is still a pick-up area. Maybe it's because gay men look more appealing coming out of the ocean, water trickling down their naked bodies leading to the one area that is enhanced by a nylon speedo. Maybe the glare of the sun reflecting off the sand and onto the body of a stranger intensifies the sexual attraction for the man sitting eight feet away. Whatever it is, I had the opportunity to observe them and watch Men at Work (not the Australian band).
There is one man who returns each season since I made the beach a regular part of my summer routine. His daily procedure has remained the same since 1995: walk. (My friends and I label him "the walker.") Except for his lunch break and occasional rest period, this guy set up his chair, strips down, places thick dark glasses upon his head, and walks the beach from end to end, non-stop. For the casual observer, one would think he is getting in a good workout. To the regular beachgoers (like me), we know his sunglasses are blocking his wandering eyes to search his next conquest. He finds several men throughout the day to become his temporary boyfriend, and if he faces rejection, he moves onto the next. Should his target heads into the ocean, the walker heads there, too. Ever see barnacles stuck to the hull of a ship? Now you have some idea how this guy operates. It's funny how he uses the same procedure and pattern, year after year after year.
The funniest sight to see are two men (for the purpose of this story, I will call them Waldorf and Statler). These men, who are probably as old as Waldorf and Statler, meet up at the beach with multiple chairs that they spread out the beach area. Their target, however, isn't men — it is women. They are two straight men who play gay in order to allure unsuspecting women who either feel uncomfortable hanging out in the straight section of the beach, or are travelling with their gay male friends. It's a situation comedy for all the gay men who know their game, watching them park their chairs around women to stare at their bodies and try to chit-chat with them. It's the modern day version of J. Howard Marshall and Anna Nicole Smith.
Of course, it's not all about the hook-ups. I have met
some truly great friends at the beach who make the experience more enjoyable.
The summer season of 2016 may be over, but the memories will last forever. I'm anxious to see what happens in eight months.
______________________________________
The independent gay press can only exist with the support of its readers and advertisers.  Please consider

subscribing

or

advertising

in Diversity Rules Magazine!