The Commedia Rapunzel is a bold new type of children's theater show in NYC and it is getting international coverage (U.S., Peru, Japan) because of its unapologetic use of drag and LGBT actors to teach kids that it's OK to be considered weird.
Using humor geared equally towards children as well as adults, the troupe (The Spaghetti and Meatball Players) is currently performing The Commedia Rapunzel, a campy spin on the traditional story. Earning their Saturday morning 11am slot at the SoHo Playhouse, they will switch to The Commedia Cinderella after March, keeping with their signature Commedia Dell'Arte style.
Out Magazine heralds the show as a must-see, saying "The whole cast draws children in with whimsical personas, while treating the adults in the audience to jokes tailored to their demographic. This makes the show perfect for all ages and people attending, with or without kids in tow."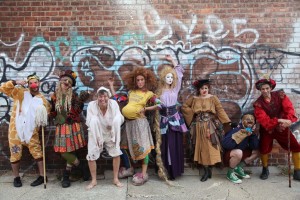 Slate celebrates the show's vibe and vision, "The house lights go down and a cheer goes up from the impatient audience. It's Saturday, the end of a long week, and everyone here is ready to let loose. So in many ways, this drag show is starting just like any other nightlife spectacle. Except that the time is 11 a.m. and the spectators are school-aged children."
After being a stand-out hit at the 2015 New York International Fringe Festival and named one of Mommy Poppins' "Best Fall Theater Shows for NYC Kids," The Commedia Rapunzel follows the Spaghetti and Meatball Players, a troupe of poor traveling "Italian" actors, as they present a hilarious zany musical romp through a twisted retelling of the fairytale "Rapunzel" done in the style of Commedia dell Arte! Expect the unexpected in this wild night of participatory theatre that is wacky, crazy, fun for the entire family!!