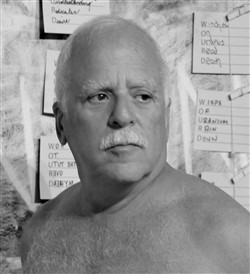 Stu is a retired professor who taught human diversity courses for thirty years. His first college job, in 1964, was posing naked for art and photo classes— he still poses part-time! 'Lights On—Clothes Off: Confessions of an Unabashed Exhibitionist' is his rather revealing novel.
Stu welcomes your comments about this month's Sans Clothing column.
His book: lightsonclothesoff.com
His email: stuauthor@gmail.com
Several Sans Clothing readers have told me that they have been to nudist resorts and beaches. But they want the thrill of being naked for a fully-dressed audience and didn't know where to start. If you use my suggestions note that there are some risks involved so try these—if you dare.
JUST SO YOU KNOW—I HAVE DONE ALL OF THESE!
— Next time you go to a Halloween party wearing a yukky hat, an old trench coat, and dirty shoes. Cut off the legs from a pair of pants and use tape to tighten them around your thighs. You will look like a fully dressed bum. **When I was asked about my 'costume' I replied, "I'm a flasher." No surprise, everyone wanted a peek. They were expecting some funny underwear or a fake dildo but when I opened my coat they saw the real thing. I received a chorus of cheers. And I was an active flasher for the rest of the party.
— Take an all-gay cruise. Full nudity is typically not allowed. However, on two ships I found a naked sunbathing area. Find it! Undress and stretch out, face up, and greet the guys who are strolling by checking out the 'scenery.' Mention that it's fine if they'd like to take a photo. **When I did this the word quickly spread and every afternoon there was a stream of guys snapping away. It was fun when some of them would see me during the evening and show me the pics they took.
— When you're in a gay neighborhood step into a clothing store that sells sexy underwear and opt to try some on. 'Accidentally' leave the curtain ajar and start—put it on, take it off, repeat. When shoppers stop and stare show it all. **When I did this in Montreal's Gay Village some guys hung out and enjoyed my performance. A few left and came back with friends in tow. The manager liked the extra traffic and asked me to return the next afternoon to repeat things with the curtain fully open. He promised to give me one pair for each hour I entertained his customers and the friends he was going to invite. I earned five new pairs! Too bad I was leaving Montreal the next day.
— Contact the art department of a local college. They will be happy with your interest in posing for life drawing classes. Show up, take off your clothes, and let the students see all of you. Be sure to tell the instructor that it's your first time; that way they will give you some suggestions on how to best show off your entire body. **I started posing for art classes when I was a college freshman. Taking off my clothes in a studio full of college kids was a trip. I made sure to undress on the posing platform since half of my fun was watching all of their eyes while I undressed—especially when I lowered my white Hanes. . BTW, I still do this.
— If you have a medical school or college near you, one that trains medical students, nurse practitioners, or physician assistants, you're in luck. They would love to have your body to practice on and they typically pay very well. The best classes are when they are learning how to check for hernias and the proper method to examine the prostate. **Not many men are willing to do this so I've always been in demand.
I've never had a problem with probing fingers while the group of students moved in for close-up views. My absolute favorite was when I'd be hired for navy corpsmen classes, classes filled with about 30 uniformed guys and each one had to examine me. Wow!
— When you're invited to a social gathering tell the host that you're an exhibitionist and offer to be naked during the party. The host may love this creative idea—a twist that would make their party the talk of the town. So don't be surprised when you're told, "Let's do it." **The whispering started as the guests realized that I was slowly losing some of my clothes. But by the time I was fully naked they were comfortable and enjoyed seeing every inch of me. The toast for me, when my underwear finally disappeared, was awesome. This experience led me to open my bare butler business—more on that in another column.
— Strip. Head to a club that features naked dancers. Tell the manager your desire and before you know it you'll be asked to audition. Of course, say "yes." Get up on the stage, do a slow seductive dance and take it all off. Enjoy the attention and probing eyes. This can become a new income stream for you. **I went to several stripper bars in NYC and DC and watched the naked dancers and realized I wanted to do this. So I asked the manager in the Chesapeake House in DC if I could audition. He pointed to the bar top and before I knew it I was dancing sans clothing except for my socks (where tip money went). I stripped in many clubs in several cities for years.
What was your favorite experience being naked for a fully-dressed audience? Share with me and your story may be in a future Sans Clothing column.
I'd love to hear from you. If nudity, exhibitionism, and voyeurism are issues you'd like to chat about here's my email: stuauthor@gmail.com. For photos of me posing for art classes (no fee), just ask. And check out my book, www.lightsonclothesoff.com.
Check out Stu's March Sans Clothing Column.