Ben Cohen, the Rugby champion and longtime ally of LGBTQ+ rights, is making his acting debut this summer in Patterns, a new LGBTQ+ series acquired by TLA Releasing that began streaming exclusively on Dekkoo on July 27. In mini-narratives, the British camp comedy explores several unique themes that make up the lives of LGBTQ+ people and their allies, including family dynamics, coming out, dating, therapy, and surviving an existential crisis. Each episode tells its own distinct story, but all episodes take place in the same universe so that a minor character in one episode may reappear as the lead in another and vice-versa. "Patterns was created to be a reflection of everyday queer life and how we navigate different social circles at work, with friends and family, behaving differently within each circle we frequent," explains director Rex Glensy. "The beauty of the series is that it explores this dynamic with humor and heart."
"When I first read the script for Patterns, I knew I needed to be a part of the series as it spoke to my lifelong allyship with the LGBTQ+ community," says Ben Cohen, who in 2011, launched the Ben Cohen StandUp Foundation to combat bullying of children who might be lesbian, gay, bisexual or transgender. "Also, I have always been a bit curious about appearing in front of the camera as an actor. The first scene I filmed for Patterns was even more nerve-wracking than when I played for England the first time!"
The premiere episode of Patterns stars Tayler Marshall as Christopher, a good-looking man in his early twenties who questions whether his relationship with vain boyfriend Foster, played by Rufus Shaljean, has real substance, or if Foster is only interested in him for his good looks.
The second episode takes viewers in an entirely new direction as we meet Liam, a teenager with a questionable obsession with his favorite athlete. Played by newcomer Rufus Gleave, Liam tends to retreat into the world of ballet and a very active fantasy life. Ben Cohen stars as Liam's personal superhero who helps lead him out of his inner turmoil.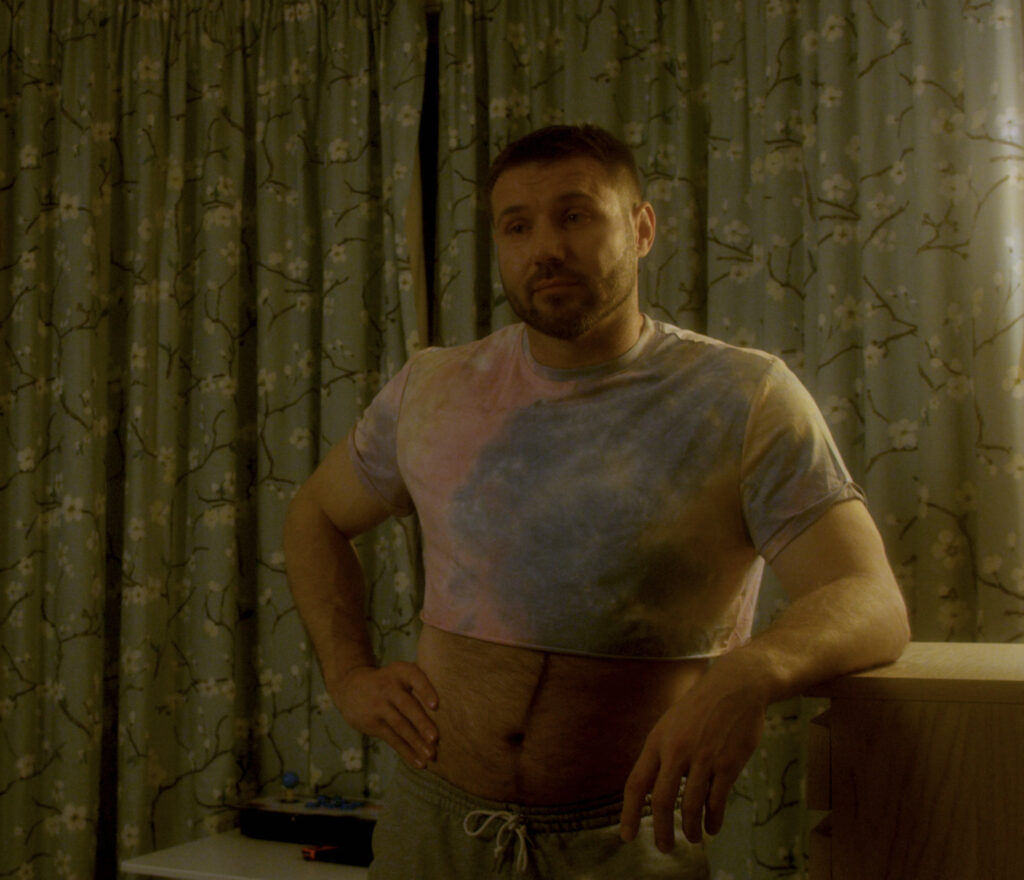 The third episode of Patterns stars hunky Jack Armstrong as Lionel who loves the company of other men and becomes obsessed with his pizza delivery man. "Lionel is a hopeless romantic and while he appears simple-minded, he is quite complex," Jack Armstrong, the actor who plays Lionel, explains. According to Glensy, when casting for the role of Lionel, they were searching for someone who was likable, naturally funny, and good-looking. They knew they had found the perfect actor the second Jack walked into the audition room. Glensy calls Jack Armstrong a consummate professional who takes his craft very seriously. Says Armstrong of his character Lionel, "The entire emotional arc of Lionel boils down to one moment as he stares down at a pizza box."
The fourth episode of Patterns, titled "Four Dates and a Humperdinck", sees the return of young Liam, who organizes a series of dates for his single father, each more outlandish than the last. In "Breaking Fast," siblings Mary and Vedrana are forced to confront their past in order to secure their future and in "Room 103", a coalition of annoying Karens are sentenced to participate in a support group to individually account for their bad public behaviors.
Episode 7 of Patterns sees the return of Tayler Marshall as Christopher and Rufus Shaljean as Foster, but this time Foster is in the lead role. "We quickly learn that Foster is a force of nature," explains Shaljean. "He has the remarkable ability to always keep his head held high, his curls in check and he never looks back for anyone. He's unapologetically himself."
When a stranger in the park approaches Foster and asks to film him, it is his egomaniacal dream come true. He ropes in his boyfriend Christopher and frenemy Kevin to join him but to everyone's surprise, when they step in front of the camera, nothing turns out as expected.
"I hope viewers are entertained by our series featuring multiple LGBTQ+ people in a shared universe," says Asad Moghal, who wrote the series with Daniel Mannheim.
"It's fun to see lead characters in previous episodes reappear in the periphery of later episodes and watch as minor characters take the lead in their own stories," Glensy adds.
The season ends with a surprise eighth episode that neither Moghal nor Glensy wish to reveal. "It's a special gift for viewers who make it to the end," laughs Moghal. He also hints at more Patterns ahead. "We have developed the narratives for all the characters in Patterns and how they link together and there are still quite a few stories to be told."
Patterns premiered on Dekkoo on July 27, 2023. For more information, visit Dekkoo.com.
Dekkoo is the first subscription streaming service dedicated to gay men. Launched in 2015, Dekkoo offers feature films, shorts, episodic series, and exclusive originals. Dekkoo is available at Dekkoo.com and via apps on Apple, Google, Roku, Samsung, and more. Dekkoo is also available as an add-on channel with Amazon Prime US and UK, Comcast Xfinity, and YouTube Primetime Channels.
For more great articles check out the Diversity Rules Magazine BLOG.