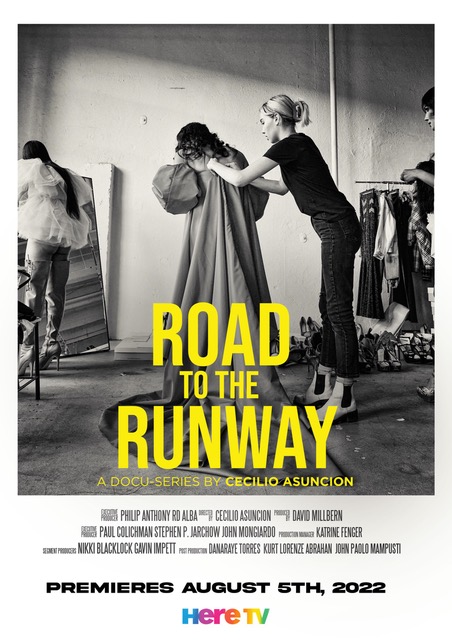 Road to the Runway, Here-TV's new docu-series premiering Friday, August 5, examines the roles that gender, race, socio-economic status, and familial approval play in the lives of young, beautiful women charting their course toward fashion's latest frontier: the transgender supermodel. The series profiles the twenty hopefuls competing in this year's annual Slay Model search. Cameras follow the women to their hometowns to uncover their roots: the environments they were reared in and the circumstances that helped shape them into the beautiful, statuesque, fashionable young women they are today. Executive produced by GLAAD-award winner, Cecilio Asuncion, Phil Anthony, RD Alba, and produced by Emmy-award winner David Millbern, Paul Colichman, Stephen P. Jarchow, and John Mongiardo, Road to the Runway is an important reminder that these Trans models are more than mannequins: they are daughters, friends, and partners in love, with stories that deserve to be heard.
Among the cities visited in Road to the Runway are Chicago, Atlanta, Boston, and Florida. In Azle, TX, viewers meet Mylla James who comes from a highly conservative family, yet they support their daughter, joining her at photo shoots and even traveling with her to model opportunities in Los Angeles. "Most home towns we visit on Road to the Runway are not in areas people would consider progressive," Slay Model founder Cecilio Asuncion reflects. "It's interesting that in many of the cases, we often find with parents that when it comes to loving their daughters, politics takes a back seat."
It was evident culturally, as well. Ayden Yee is a 15-year-old track star who ranks second in her state of Wisconsin. She is of Chinese descent, a culture where sons are traditionally deemed as more valuable. Cameras show the Yee family embracing Ayden for who she is; something Asuncion, an Asian American, found especially moving. "It is powerful to witness models who enjoy the support of their families back home. They present as confident and secure. They're armed with the knowledge that no matter what happens in the model search, they will be ok because they are loved."
Sadly, not all of the women are so lucky. "The reality is a majority of our models have struggled their whole lives with living as their authentic true selves," Asuncion continues. "They live in a world where simply walking out of the house takes incredible courage."
Still, their anguish could prove an advantage in the harrowing world of fashion. "Courage builds resiliency and that kind of tenacity is key to surviving the inevitable pitfalls on the Road to the Runway," Asuncion contends. "The model life is not an easy one. It is filled with unforgiving scrutinization and unavoidable rejection. It's not for the faint of heart."
He makes it clear to the hopefuls in Road to the Runway that his agency, Slay Model Management, is not selling Transness. "It is a fashion model agency and we are selling a young woman's capability to represent a brand or a designer."
It takes more than beauty to be a bookable model. It takes determination, grit, and a visceral understanding that the woman is a model first, and Trans second. "As is often the case in model competitions, the real challenge is an internal one," Asuncion says. "It used to be that women reshaped themselves to fit the industry standard; striving to match the idealized version of a Barbie doll. Today's fashion industry wants to see the real, unfiltered woman beneath the lashes and lipstick."
What Trans models have in their favor today – unlike any other time in history – is that clients are looking for diversity and representation. Slay Model Management models have appeared in campaigns for M·A·C Cosmetics, Hyundai, Harper's Bazaar, Vogue Germany, Macy's, Biore', Eva Mendes for NY and Co., and Savage X Fenty. They have appeared on TV in POSE, Law and Order: SVU, Project Runway, and Netflix's Next in Fashion. The agency's first-signed and most recognized supermodel, Arisce Wanzer, who appears in Road to the Runway, has been featured on TV shows like MTV's Ex on the Beach, and in campaigns for Marco Marco, Opening Ceremony, Truvada, AT&T, Lululemon and Lucky Jeans.
The urge for diversity even accounts for why the show was picked up by the network. "At Here-TV, diversity and inclusion remain the central focus of our programming strategy," says Emmy-winning actor and producer David Millbern. "Producing Road to the Runway gives us the opportunity to honor and explore the lives of these extraordinary trans women, many of whom are also women of color. Their bravery inspires us."
"The sky is the limit for these young women," Asuncion sums up. "From how I see it, it is my job to lead and develop the girl from hopeful to working model. The supermodel part is up to the individual. She must have the passion and drive to go the extra distance."
The winning model of this year's annual Slay Model search earns a spot in an M·A·C Campaign, a trip to London to shoot a Carmen Liu Lingerie campaign, a Colors of Love ring, and a social media campaign from Faberge', shoes from Lidia Talavera, and a year contract with Slay Model Management.
Road to the Runway premieres on August 5th on Here-TV.