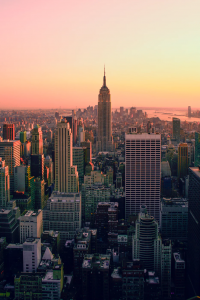 Since 1989, SpaSeekers has been helping customers find their perfect spa experience. All packages come with the best price guarantee at over 500 of the UK's leading spas.
A new ranking index reveals the most romantic cities to take your loved one this Valentine's Day – and the city
that's most popular for proposals.
This new index reveals the most romantic cities to visit this Valentine's Day, measuring 5 factors to determine an overall score.
Ranking factors include the cities that are most popular for proposals, have the highest marriage rates, are most sexually active, have the best LGBT dating scene, and have the highest 'romantic' sentiment reported across social media.
Data reveals New York is the most romantic city in the world, followed by London, Los Angeles, and Paris.
3,421 people got engaged in New York in the last 6 months, making it the most likely city for a Valentine's Day proposal.  Paris is the most sexually active city – taking romance to the bedroom.
A new study reveals the most romantic cities to be visiting this Valentines – based on a number of factors combined that signify love.
The Worldwide Romantic Index by SpaSeekers ranks 66 cities around the globe on how romantic they are by combining five data points:
The city where you're most likely to get proposed to – based on 118,000 #engaged #heproposed and #isaidyes social media posts worldwide
Marriage rates in each city LGBT dating scene in each city based on a worldwide study by Nestpick
How sexually active people are in each city based on a study of 450,000 adults
And how many people are feeling the love, based on social media sentiment
An algorithm was created to measure these factors and give each city a score out of 50.
New York has been revealed to be the most romantic city destination in the world, with a score of 46.4. The Big Apple is followed by London, Los Angeles, and Paris.
Jason Goldberg, Founder of SpaSeekers says: "Finding the right city break for romance can be tricky, so we conducted a study taking a number of factors into consideration to rank worldwide cities.
"With these factors combined, New York tops the list. Plus, it ranks first for the city with the most #isaidyes and #engaged posts on social media. London comes 2nd overall – beating Paris, the classic city of love.
"Valentine's Day may be a time where sparks fly but romance should be enjoyed throughout the year. While a holiday in the Big Apple may be the adventure of a lifetime, you can enjoy just as much quality time together at a spa break closer to home!"
The full ranking report can be found HERE!
__________________________________________________
If you enjoy reading Diversity Rules Magazine, please consider subscribing, advertising or investing in its future.