Tony Guadagnino is a marketing consultant. Located in New Jersey, his clients are based across the country, focusing on social media to build their presence on the internet. He studied creative writing in college and is currently working on his first novel on the subject of bullying. He lives with his partner Mark.
The World Wrestling Entertainment (WWE) is an entertainment company that is known primarily for its professional wrestling. When someone mentions the WWE, thoughts of zany antics, colorful costumes, staged choreography, hard-hitting jumps from the ropes and really bad acting are the things that flood the minds of people. Watching buff men, ripped bodies in sweat, throw themselves around a boxing size ring can be entertaining, if that's your form of fun. Is it any surprise that there have been several gay men in the WWE, but it wasn't until 2013 when someone came out WHILE PARTICIPATING IN THE PROGRAM? Who it is — you'll have to read to find out.
One of the first gay wrestlers was Canadian Pat Patterson. He began his wrestling career in 1958 in Montreal, wrestling at the Palais des Sports. He began his career as "Killer" Pat Patterson, but in 1962, when he was recruited for the Pacific Northwest Wrestling, his persona (by the insistence of his promoter who know of his sexuality) was changed to "Pretty Boy" Pat Patterson, an effeminate wrestler who wore lipstick, sunglasses, and a beret and carried a cigarette holder. It was during this time that he met his partner Louie Dondero, whom he was with until Louie's death in 1998.
Eventually, Patterson (under the new name "Lord" Pat Patterson") joined the WWE in 1979 (known at the time as the World Wrestling Federation) and became the "heel" (the heel is the villain of a wrestling match). After retiring in 1984, he remained behind the scenes with the WWE, even dubbed as "Vince McMahon's right-hand man" and "one of the chief architects of the WWE, playing an integral role in helping it become a global phenomenon." While he was a major contributor to the WWE, his sexuality was not publicly acknowledged until June 12, 2014, during the season finale of WWE Legends' House.
Chris Kanyon was another wrestler whose sexuality was kept private during his time with WWE (1995-2004). Chris was originally part of the World Championship Wrestling, joining Mark Starr in a tag team "Men at Work." Eventually, he went solo, under the alias Mortis, and wrestled for many years with the WCW. In 2001, after the WWF purchased the WCW, Chris began using his own name and wrestled for three years until injuries forced him to retire in 2004.
Upon retirement, Chris started a gimmick that he was gay, stating that as his reason for being released from the WWE. He later clarified that it was just a publicity stunt, but acknowledged that he was a gay man living in a closeted world. Sadly, on April 2, 2010, having suffered from bipolar disorder his entire life, Chris Kanyon committed suicide at the age of 40. A year later, a book entitled Wrestling Reality was released, which details Chris Kanyon's struggles as a closeted gay man.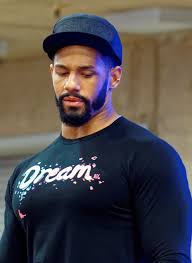 But it is Darren Young who is the first openly gay man while working for WWE. Darren became interested in wrestling as a teenager, he eventually went to a wrestling school and later made his professional debut as a wrestler in 2002 and spent years on the independent circuit, leading to the WWE in 2005. He won many matches and titles as a solo artist (I guess it's an art), and later became a part of the duo team The Prime Time Players (with Titus O'Neil) for several years. He left the WWE in 2017 and now wrestles on the independent circuit again, under his real name: Frederick Douglas Rosser III.
In an interview on August 15, 2013, Darren publicly came out, being the first current WWE wrestler to do so. Upon his coming out, WWE had released a statement in support of him and being open about his sexuality, and many other wrestlers showed their support to him through social media.
As more professional wrestlers come out of the closet, they can thank these three men for breaking down the door for them. Whether it was during or after their association with wrestling to come out, they showed strength in standing in their truth, and in doing so, will become inspirational men for future wrestlers.