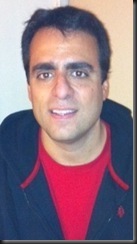 Tony Guadagnino is a marketing consultant. Located in New Jersey, his clients are based across the country, focusing on social media to build their presence on the internet. He studied creative writing in college and is currently working his first novel on the subject of bullying. He lives with his partner Mark.
As the weather is getting nice and sunny, our wardrobes begin to change as well. Winter coats are hung up and light jackets are out. Snow boots have been switched out for rain boots; thick socks are tucked away and replaced with ankle socks; sweaters are stored away; hats and gloves are back on the closet shelf; snow shovels are locked in the shed, and of course, our heating bills begin to plummet.
And all of us remember that Daylight Savings Time went in effect on March 13th because we woke up tired and restless — and most of us took an afternoon nap to make up that one hour we lost. Yes, it's the time of the year we call SPRINGTIME.
I know a lot of people (including my partner) in which spring is their favorite season of the year. Not only do the temps get warmer, but flowers begin to bloom, trees start to grow its leaves, and the humans leave their hibernation homes to get out and enjoy the nice weather. And there are a slew of events for the LGBT Community throughout the United States this spring. For a complete list of these events, go to www.gaypridecalendar.com.
One occasion that I have never attended (but is on my Bucket List) is the Gay Easter Parade in New Orleans. I love how New Orleans hosts a recreation of the 1948 holiday film, showcasing the fashion and creativity of the entire LGBT community with gentlemen in their suits/tux with hats, and ladies in Easter dresses and big hats. Can you imagine becoming Fred Astaire or Judy Garland in New Orleans? I wouldn't be surprised if there were hundreds of Judy drag queens looking for their one Fred. When my partner and I eventually go, we'll be two Fred Astaire's. I guess two drag queens will be lucky enough to be partnered with us.
The High-Energy men who follow the party circuit will be in full "swing" for the annual White Party in Palm Springs. A four-day event in April, it is entrenched in the desert warm sun, fueled by the adrenaline of hot men dancing until dawn. Relaxing during the day by the swimming pool, wearing the skimpiest of suits, is their solution to nurse a hangover in order to re-enter the dance floor, pumped up with "enhancers" to last every night party.
Of course, no gay man will forget to make one special call on May 8th — Mother's Day!
"There has never been, nor will there ever be, anything quite so special as the love between a mother and a son." Author Unknown
I always find the sweetest Hallmark to send my loving mother, followed by a bouquet of the prettiest flowers that brighten up her home. A florist friend of mine told me how Mother's Day is one of his busiest holidays, and all gay men order the most elaborate arrangements for their mommy. After all, they gave us life; they deserve the best flowers.
Before we know it, we'll be pulling out the flip flops, shorts and tight t-shirts as we enter summer. But please, let us not rush through the spring season. Enjoy the season of renewal, and most of all, lose the rest of your winter weight before the shirts come off for the beach.