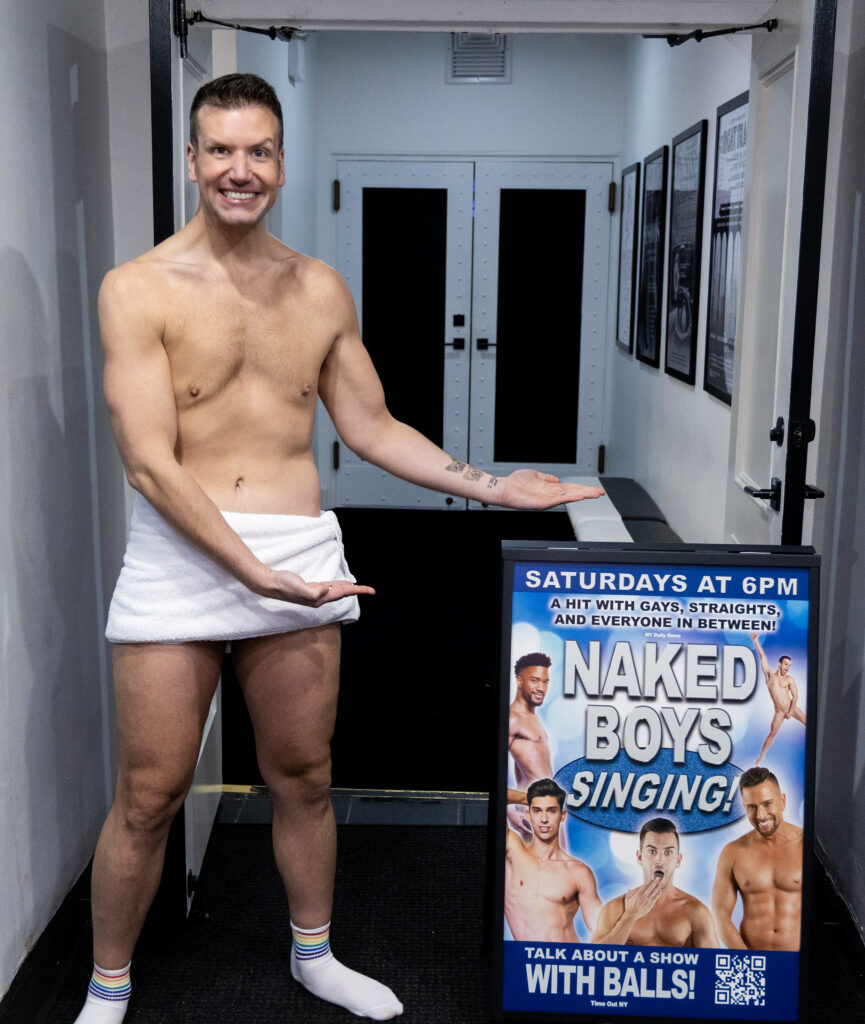 The long-running off-Broadway hit, Naked Boys Singing!, returned triumphantly in March with a brand-new production starring American Idol's David Hernandez and the first body-positive naked boy. "For nearly 25 years, our show has celebrated the male form with a lot of laughs and no costuming," says producer Tom D'Angora, "but our new production spotlights the beauty of all men's shapes and sizes." Plus-sized gender-fluid actor Dom Giovanni (He/Them) makes their off-Broadway debut in the production, joining David Hernandez (American Idol), Jaden Lux (Naked Boys Singing Las Vegas), and Gregory Sullivan (Naked Boys Singing, A Musical About Star Wars and NEWSical). Presented by husbands Tom D'Angora and Michael D'Angora, Naked Boys Singing! is high-camp musical theater. The 60-minute show features a cast of five handsome "boys" with gorgeous voices and hilarious comedic timing. There are no costumes and no underwear… it is simply Naked Boys Singing!
"If you would have told me fifteen years ago when I first saw Naked Boys Singing! that I'd be in the re-opening of the off-Broadway show, I would never have believed you," Dom Giovanni says from their Harlem home. "It always seemed to me that this show was only for buff and toned boys. I'm excited to reveal my talent along with my brand of hotness and prove that curvy Naked boys deserve a platform too."
"I'm stoked to return to the show and get back in my birthday suit," says American Idol's David Hernandez. Hernandez first made waves as a fan favorite on season 7 of American Idol. After making it to the top 12, he was eliminated from the show when his stripper past came to light. He made his Naked Boys Singing! debut in the Las Vegas production of the show last year and is excited to star in his first off-Broadway musical. "Naked Boys Singing! is hilarious, and empowering and incorporates my favorite aspects of life: music and nudity!"
Producer Tom D'Angora is thrilled, too, to bring a more inclusive Naked Boys Singing! back to New York City. "I started my affiliation with Naked Boys Singing! in 2001, as a cast member," he explains. "While in the cast, I was in top physical shape, but beneath the muscles was a guy struggling with body issues."
Since leaving the cast to become a producer and director of several off-Broadway shows, Tom D'Angora has fought a twenty-year battle with weight loss. At one point, he was close to 400 pounds. With the help of WeightWatchers, he successfully lost over 200 pounds. To remove the sagging skin left behind, he underwent a full body lift surgery; and was publicly criticized for it.
"I was shamed for putting on the weight and then shamed for taking measures to improve my body after I had lost the weight," Tom D'Angora says. "The bottom line is I am working hard to love my body and I hope the new show encourages everyone to do the same."
Naked Boys Singing! was created in 1998 by Robert Schrock and a team of twelve writers, in an attempt to save the Celebration Theatre from closing. It worked and the show has gone on to play all around the world. A 2001 Provincetown production made national headlines when it was shut down due to an old blue law, but after the cast and crew fought back and won, the show went on to play many successful seasons in the popular beach town. A 2007 film adaptation was released, and a national tour crisscrossed the country and the Las Vegas residency opened in 2021.
Naked Boys Singing! plays performances every Saturday at 6:00 pm at The AMT Theater, 354 W 45th St (at 9th Ave). Ticket prices start at $49 at www.NakedBoysSingingNYC.com. A limited number of premium front-row tickets are available.