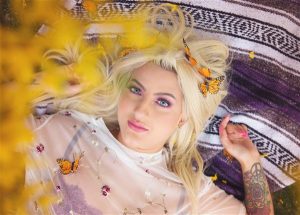 Pop singer Tina DeCara follows-up her smash single "Illusion — it had over one million Spotify streams — with "Solo," a song about loving yourself when you're at your loneliest. "I've been solo for a while and though most days, I'm cool with not having a special someone to kick it with, there are times my mood swings so low," admits Tina. It was during one of these down periods that she wrote her new single. "I sat with a bottle of wine and had a little pity party in my music journal," she remembers. But oddly, what emerged wasn't a sad song about being lonely, but a celebration of self-love and embracing time spent alone. Tina DeCara's "Solo" is being released through Big Management and is available for purchase on iTunes, Amazon, and all other major retailers, as well as for streaming through Pandora and Spotify. Its video is on Youtube.
JRK: Before we get into the interview, can you tell us a bit about Tina DeCara, where you are from and all that good background stuf1. Before we get into the interview, can you tell us a bit about Tina DeCara, where you are from and all that good background stuff?
TD: Hey! I'm from Long Island NY, but I spend most of my time hangin' out in the big apple. I love music, all different kinds from jazz classics to modern pop, and then 80's pop, I can go on and on about music. Singing has been a passion of mine for as long as I can remember.
JRK: You have just released a new song entitled, "Solo." Can you tell us what it's about?
TD: Yes I did 🙂 It's about finding yourself and loving yourself through your darkest moments.I fell in love with self-confidence through being alone and writing music, and just being who I am.. I wrote this song when I was feeling super alone. I hope people can connect with this song and the vibe.
JRK: Prior to "Solo" you had a smash hit entitled, "Illusion," with over one million Spotify streams. That's pretty exciting! What do you think made the song so popular?
TD: Illusion will always be one of my favorite songs. The synths and trap-inspired beat and a ton of harmonies on my vocals!! So much fun… I love that song. Illusion did so well because it came out the right time.. Trap nation was a big part of this song also.
JRK: Given the focus of "Solo," there are many people struggling with self-doubt and loneliness. What advice can you give these folks, many of whom may be readers of Diversity Rules?
TD: Ah, when you struggle with self-doubt it can be super painful. I always pray and feel better.. I also recommend working on yourself, doing what you love more, and breathing more. Work on loving yourself cause that's all you got in the end. Nature walks are helpful, eating healthy help, or google Bob Ross!!
JRK: You have stated that your friends in school were not supportive of your superstar dreams. How did you maintain your assuredness that you would be successful despite your friends' less than accepting support?
TD: Yea, that was awful. It hurt so bad to be told to never come home from Miami, or I'd have no friends here for me anymore. That's a statement one of my "friends" said to me. This made me more powerful and confident because I was alone and found who my real friends were. My dog and mom LOL.
I am confident in myself and don't need negative friends in my life who don't want to truly love me or nurture. All my relationships are more positive then negative – I only let certain people into my life, that is important, your aura and vibe can be destroyed if you are always around low/ bad energy.
JRK: You said one of the biggest challenges as an artist is finding yourself and what your voice is capable of. Can you tell us what you mean by that? How did you find yourself?
TD: It can be so hard to find which part of myself I wanna open up about in a room full of new producers and writers. I can be very emotional when I write. When I feel confident in my story is when I feel I have found myself. I am constantly learning who I am, and what my desires are.
JRK: Many in our community do not understand bisexuality. What are some of the misunderstandings surrounding bisexuality? Why do you think some have a hard time grasping this truth that many like yourself embody?
TD: To be honest with you I don't label myself as bisexual, I like what I like.. But our society has labels for everything. I was in love with a girl once, and a guy once. It happens and I am happy with myself and I want others to do the same. I don't know why there is a misunderstanding, what is so hard not to get?
JRK: Where did the obsession over buying wigs come from?
TD: I always wore wigs, my mom was a freestyle singer in the '80s ( Coryne Elyse) and she had a big curly blonde wig that I would wear around my house when I was 6 haha. And now I think it's so fun to play and express myself with hair.
JRK: What is next for Tina DeCara?
TD: More MUSIC, and show dates for sure!
JRK: Do you have any closing thoughts you would like to leave Diversity Rules readers?
TD: Love yourself more often, and to remember to make yourself a priority.
__________________________________________________
If you enjoy reading Diversity Rules Magazine, please consider subscribing, advertising or investing in its future.